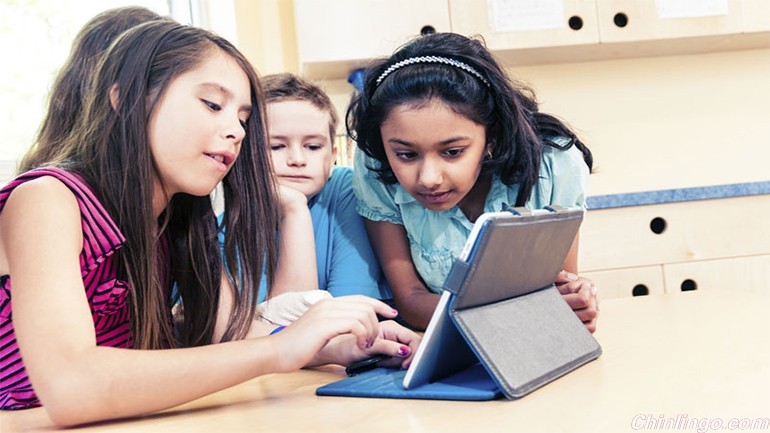 Lawmakers in Taiwan are considering banning children under 2 from using iPads and other electronic gadgets. Those under 18 will also not be allowed to use digital media for "a period of time that is unreasonable." Should iPads be banned for kids?
台湾立法者正在考虑禁止2岁以下儿童使用iPad和其他电子产品。2-18岁的孩子也将被禁止使用数字媒体,因为他们在"这个年纪不适合用"。你认为应该禁止孩子使用iPad吗?
Nancy (UK)
Supervision regarding what types of apps they use & time regulation is just common sense – but to ban all technology for under the age of two seems radical and ignorant to the benefits that technology can bring. I cannot agree with the plan.
监督他们使用APP类型并规定使用时间是一种共识,但是禁止2岁以下的儿童接触任何电子设备未免过于偏激,同时也忽视了科技所能带来的好处。我无法赞同这项计划。
Jason (Australia)
The main problem with technology, and more or less the only one I feel, is eyesight. Because of staring at a computer screen all day, their eyesight could go bad. For 0-2 years, iPads should be prohibited; for 3-5 years, it can be allowed for one hour per day; for 6-18 years it can be allowed for two hours per day. Children need to experience the outdoors–they need to spend time in "green" spaces.
我觉得科技带来的一个主要问题(我认为是唯一的)是其对视力的影响。因为一整天盯着电脑屏幕,他们的视力会下降。对于0-2岁的孩子来说,应该禁止他们玩iPad;对于3-5岁的孩子来说,可以允许他们每天玩一个小时;对于6-18岁的孩子来说,可以让他们每天玩2个小时。孩子们需要户外活动,需要到有绿色植被的地方玩耍。
Stephan (US)
I think teaching kids about technology is great and necessary in this day and age. Our children will grow up in a world of technology which they will need to know how to use and navigate. Kids need the outdoor play for sure but a bit of supervised use for a limited time at weekends on age appropriate material is fine.
我认为在当前时代,我们要让孩子明白,科技很重要,也是必需的。我们的孩子将在科技的世界中成长,他们需要知道如何去使用和掌控(科技)。孩子当然需要户外活动,但是让他们在监督之下,在周末用些许时间接触适龄的内容也是可以的。
Maria (China)
I have seen other parents buying their children iPads at a young age and then leave them to use it as they please. That I do not agree with. These devices are not babysitters. Nor should they replace parental interaction or rule. I believe it is important, more so than cautioning against the use of technology by young children, to educate parents.
我看到有些父母给很小的孩子买iPad,然后随他们怎么高兴怎么玩。我非常不赞成这种做法。这些电子设备不是保姆,不能取代父母与孩子之间的互动以及对他们的管教。我认为培养父母的正确认知比警告儿童使用科技产品的危害性更为重要。
Ryan (Canada)
I believe technology use at an early age can benefit a child's development, not harm it. Certain video games require reading comprehension skills to advance in the game. In addition, more jobs in the technology sector are being created in Canada. It is important to teach computer literacy to prepare children not only for these jobs, but also for the important role all types of technology will hold further in their education.
我相信在小孩还小的时候使用科技产品对他们的成长只有好处没有坏处。某些视频游戏需要有一定的阅读理解能力才能闯关。此外,加拿大的科技行业有越来越多的就业机会。教孩子们计算机知识很重要,这不仅可以让他们为这些工作做好准备,而且也为各类科技产品在他们的教育过程中进一步发挥重要作用做好铺垫。