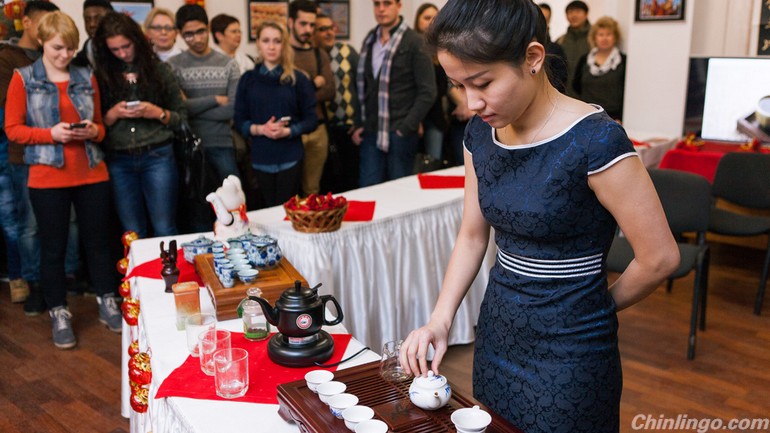 Russian and Belorussian, the official languages of Belarus, have long been considered enough work for the Belorussians, whose numbers count for more than 80% of the country. However, the young generation are planning to master at least one foreign language, particularly Chinese.
俄语和白俄罗斯语是白俄罗斯的官方语言,对于人口比例占八成以上的白俄罗斯族人来说,一直以来掌握这两种语言就够用了。但现在,不少年轻人热切希望掌握至少一门外语,比如汉语。
During Chinese president's visit to Belarus earlier this year, China signed a deal with Belarus; it would continue to offer scholarships for the excellent Belarussian overseas students, in an effort to expand Chinese teaching scale. That was the best news in May for Griego, who works in Sino-Belarus Industrial Park in Minsk.
中国国家主席日前访问白俄罗斯期间,两国签署协议,中方愿继续为白俄优秀留学生提供奖学金,支持在白俄扩大汉语教学规模。对于在明斯克中白工业园工作的格里戈来说,这是5月份听到的最好消息。
Griego focuses on the technical language instead of the common expressions like "nǐ hǎo" and "xiè xiè". He points out that many Chinese companies in the industrial park are outstanding in their fields. Only if Belarus understands the thoughts of Chinese companies and the most advanced tech vocabulary can help those companies develop in the country.
和一些人主要学"你好""谢谢"等日常用语不同,格里戈专攻技术性语言。他表示,工业园的很多中国企业都是各自领域的佼佼者,白俄方面只有从最先进的技术信息上掌握中企的想法,才能使它们坚定在白俄罗斯发展的决心。
To learn Chinese technical vocabulary, Griego attaches several small sticky notes with Chinese and Byelorussian on some product models that attract clients, and practices again and again. Griego believes the world's first Technology Confucius Institute in Belarussian National Technical University, which was unveiled in Minsk last October, will solve his problems in how to better learn Chinese.
格里戈学习中文技术性词汇,是用一张张小小的即时贴,在客户感兴趣的一些产品模型上,贴上中白两种文字,每天反复练习。格里戈相信,白俄罗斯国立技术大学的世界上首所科技孔子学院会让他的中文学习问题迎刃而解。去年10月,该学院在明斯克揭牌。
Vicotria, another student from the university, thinks German was popular among Byelorussian universities in the recent years, and lots of people used to believe that mastering English means easier chance of landing a decent job. However, many young generations think learning Chinese might give them an edge in job hunting.
大学里的另一位学生维多利亚表示,早些年白俄大学里流行学德语,但不少人觉得学英语能够找到好工作。不过,现在,很多年轻人想,如果能学好中文,或许会更胜一筹。
Ten years ago, there was a sinology research center established in Belarussian national universities. Minsk State Linguistic University had offered Chinese courses and Chinese classes, with its teaching schools set up all over the country. Nowadays, students gather regularly and share their experiences of Chinese learning with new school members. They can understand Chinese movies well and can give their comments on Chinese art of tea, and they can even perform live Chinese tongue twisters, which are an impressive feat to witness.
其实,在白俄罗斯的国立大学,十年前就有汉学研究中心,明斯克国立语言大学22年前就尝试开设了汉语课和汉语班,教学点已遍布各州。如今,那些老校友们会定期聚会,和新学员谈学习经验。他们看得懂中国电影,能品评中国茶艺,甚至现场表演汉语绕口令,让在读学生颇为羡慕。
For those Bielorussians originally from outside the capital, they tend to find Chinese students to help them with their Chinese learning. Serhiy, a young teacher in Mogilev University in Belarus, said that he and a Chinese language partner learn from each other. He believes that China will be the next stop on his life's journey.
但对于很多不在首都生活的白俄罗斯人来说,他们学习中文,更多是寻找当地中国留学生。在白俄罗斯莫吉廖夫大学任教的年轻教师谢尔盖说,他长期和中国学生相互教语言课。他还说,他人生的下一站,或许会是中国。