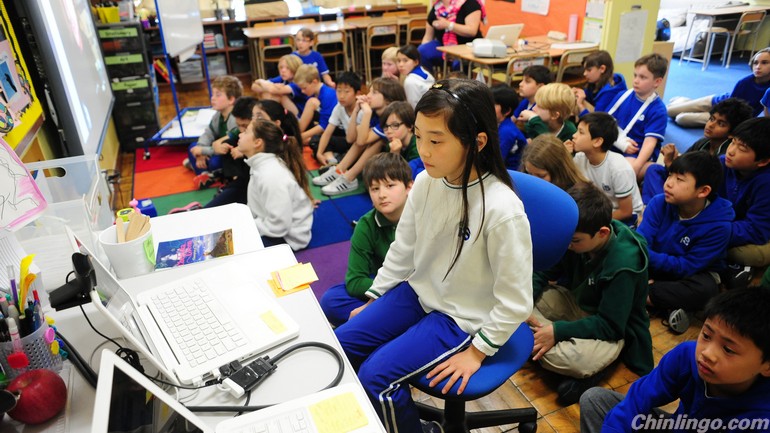 A shortage of Chinese language teachers in Australia has forced more than 50 schools to employ educators from Beijing to teach their Mandarin classes via online communication app Skype.
由于汉语老师短缺,澳大利亚50多所学校不得不聘请北京的老师通过网上聊天工具Skype来给孩子们上课。
Forty-two of the 54 schools using the program are based in the state of Victoria, as a result of a plan implemented by the previous state government which decreed that all elementary school students had to be learning a second language by 2015.
54所使用Skype工具的学校中有42所学校都在维多利亚州。这是前州政府实施的一项计划导致的结果。计划规定:到2015年,所有的小学生都必须学一门第二语言。
But a shortfall in the number of Chinese teachers available has forced schools to turn to online, Beijing-based educators to teach children Mandarin.
但现有汉语教师的短缺迫使这些学校不得不让北京的老师们在网上教孩子们汉语。
The program, known as My Chinese Teacher, was created more than four years ago by Tom Shugg, an Australian living in Beijing. It sources suitable teachers for schools in rural areas of Australia that would otherwise struggle to find a second-language teacher.
这个项目叫做"我的中文老师",四年多前,由居住在北京的澳大利亚人汤姆•沙格发起。它为澳大利亚农村地区的学校寻找合适的老师,否则,他们将很难找到一个教第二语言的老师。
Mandarin, in particular, is becoming increasingly popular among Victorian students. Figures show the number of primary and secondary students enrolling in Mandarin increased by more than 11,000 from 40,553 in 2013 to more than 52,000 in 2014, increasing the demand for Chinese language teachers.
特别是汉语,在维多利亚的学生中越来越受欢迎。数据显示,中小学学习汉语的人数增长超过了11000人, 2013年有40553人,到2014年就超过了52000人,对汉语老师的需求也在不断增加。
Marita Richardson, principal of St Joseph's Primary School in Melbourne's outer fringe, said that it was important for students to learn an Asian language for economic and social relations, but a lack of teachers in Australia forced the school to trial the program. "It can be so difficult to find teachers where we are, especially Asian language teachers and it's an issue because we are neighbors with Asia," she added.
位于墨尔本市郊的圣若瑟小学的校长玛丽塔•理查森说,出于经济和社会关系的考虑,学习一门亚洲语言对学生们来说很重要,但澳大利亚缺乏老师,这些学校不得不尝试使用skype教学。她补充说,"在本地找老师非常困难,特别是教亚洲语言的老师,这是一个问题,因为我们跟亚洲是邻居。"
The program incorporates a 25-minute, weekly class which is taught by registered teachers from Beijing. The local teacher also sits in on the class, and then assists students for a further hour every week, using material and tips from the Chinese-based teachers.
这个课程每周一次,每次25分钟,北京的老师负责教。当地的老师同样也坐在课堂上,每周额外给学生上一小时的课,使用的教材和教学技巧都来自中文老师。
Shugg said that the tool was not only important for students, but also for teachers that, through also learning the language online, could go on to successfully teach Mandarin in Australia. "More and more schools are realizing there are real issues around sustainability of language resources and this is a way to combat that," he said.
沙格说这个工具(Skype)不仅对学生很重要,对老师也同样重要,老师通过网学中文,就可以继续在澳大利亚顺利地教汉语。他说"越来越多的学校意识到可持续的语言教学资源是个问题,而通过Skype授课可以缓解燃眉之急"。
"Poor access to language teachers and resources is felt right across the country. It's a problem that every state is familiar with, and that's why schools have been open to the idea of utilizing the online resource."
全国各地都意识到了语言教师和教学资源的缺乏,这是每个州都深知的问题,这就是为什么学校会开始使用网络资源的原因。