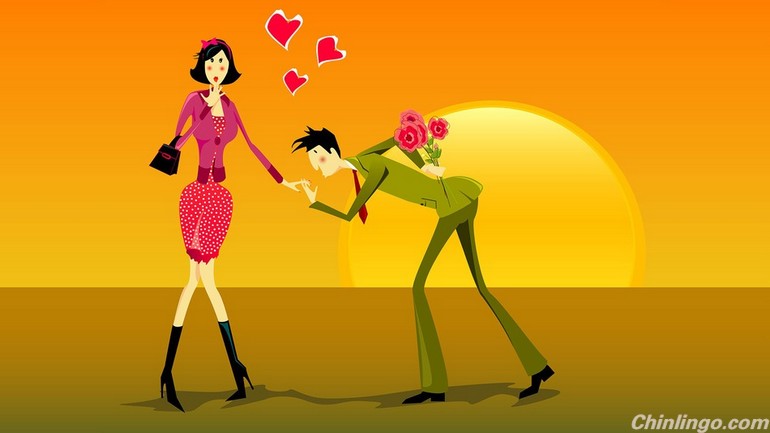 Does dating someone you've never met appeal? Have you ever been on a blind date? If yes how did it work out?
与你从未见过的人约会有吸引力吗?你相过亲吗?如果相过,那进展如何呢?
crimsonwolf (China)
I had several blind dates before marriage and the final one brought me my wife, I fell into love at first sight. A blind date allows you to know more people of the opposite sex; if you don't feel good when you meet, just say goodbye after saying hello; if you feel good, that's a beginning to know someone who might be your Mr or Ms Right.
我结婚前相亲过很多次,最后一次相亲时我认识了我的妻子,我对她一见钟情。相亲能让你认识更多异性的朋友,如果见面的时候感觉不好,那打完招呼后便可以离开,如果感觉好的话,这将是你了解潜在伴侣的开始。
sinfulangel (Australia)
It's a bit strange parents setting up blind dates for their children. One of my friends told me her parents have arranged one for her in China and she said she felt stressed. I think it is really stupid for parents to arrange that kind of thing, as it is up to the kids what kind of person they want to meet. Parents arranging blind dates for their kids actually create unnecessary stress.
父母为孩子举办相亲会,这有点奇怪。我的一个朋友告诉我,她的父母曾在中国为她安排过一次相亲,她觉得很有压力。我觉得父母(为孩子)安排相亲真的很愚蠢,因为孩子喜欢什么样的人取决于他们自己。家长为孩子安排相亲实际上(对孩子)制造了不必要的压力。
karenann33 (UK)
I met my husband on a blind date so I'm for it. I've actually been on quite a few blind dates. I preferred to have friends set me up than for me to have to try to meet someone. However I never went on one alone. It was always a double date with the friend who set it up. I was young and timid so this worked better for me. Still makes me laugh that the girl who set me up with my husband didn't think I'd stay with him because he smoked (I can't stand smokers). She told him how I felt so he didn't smoke around me. He ended up falling for me and quit smoking to keep me. Married now for 19 years and he hasn't smoked since.
我在相亲的时候认识了我的丈夫,所以我支持相亲。实际上我只相亲过几次。我更喜欢朋友帮我介绍,而不是自己试着去找。但是,我从来都不是一个人去相亲,总是跟牵线的朋友一起。到现在我仍然觉得好笑,那个介绍我跟我丈夫认识的女孩并不认为我会跟我的丈夫在一起,因为他会吸烟(我讨厌别人吸烟)。我朋友把我的想法告诉他,所以他没有在我旁边吸烟。后来他爱上了我,而且,为了把我留下还戒了烟。(我们)从结婚到现在已经19年了,他一直没吸过烟。
Nika (US)
I would never go on a blind date. I'm the type who waits for the right person to come along. I won't go out with someone if I don't have any feelings for them. I love to try new things but when it comes to relationships I am so cautious.
我永远都不会去相亲,而是等待对的人来到我身边。如果对这个人没有任何的感觉,我是不会跟他约会的。我喜欢尝试新鲜的事物,但在感情问题上,我会小心谨慎。
love2loveu (Canada)
Yes I would (if single) also I would go if I knew the person who set me up had my best interest at heart. Going on a blind date could be fun and the worst that could happen is you do not like the person. You can just say thanks but I am not interested and keep moving forward.
是的,如果我知道相亲的对象是我内心最感兴趣的那种类型的话,我会去相亲(如果我还是单身的话)。相亲很有趣,最坏的结果也只是你不喜欢那个人。你可以简单地对他说:"谢谢,但我对你不感兴趣",然后继续下一次相亲。
kegster86 (Australia)
Yes, I would go on a blind date if it was set up by a friend. They usually know what I like in a person so I trust that they would try to set me up with someone who would have things in common with me. I have been on one blind date set up by a friend and it didn't go too well. The person was very quiet and shy so it was hard to have a conversation with him. I would be willing to give blind dates another chance though.
如果对象是朋友介绍的我就会去相亲。他们通常都知道我喜欢什么样的人,所以,我相信他们会尽量把和我有共同点的人介绍给我。我曾经和一女孩相过亲,是朋友介绍的,但不是很好,那个女孩很安静而且很容易害羞,跟他沟通很困难。不过,我愿意再给相亲一次机会。