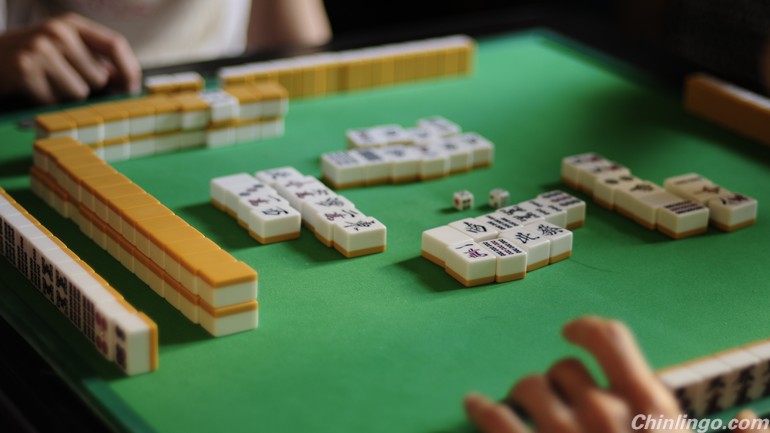 By pekchek_jun
Mahjong is not a "gambling game".
麻将不是一种赌博游戏
What I think is that everything can be gambled on. Bowling can be gambled on. Pool can be gambled on. Football matches can be gambled on. Every single thing can be gambled on. Yes, Mahjong is a conventional means of gambling but that does not mean the whole purpose of this game is just for gambling.
我认为,一切都可以赌。保龄球可以赌,台球可以赌,足球比赛可以赌。每个东西都能赌。的确,麻将是赌博的一种常规手段,但这并不意味着所有人打麻将都是为了赌博。
And my other point is that as long as one does not bet on their game, it's not gambling. So if one does not bet on the Mahjong game that he/she is engaged in, then it isn't gambling.
我的另一个观点是,只要人们不在他们的游戏上下注,它就不算是赌博。所以,如果一个人不在打麻将的时候下注,它就不算是赌博。
Like most other board games (eg. Monopoly, Risk, etc.), Mahjong is a luck-strategy based game. Just because there's an element of luck in the game, that doesn't mean that the sole purpose of the game is to gamble on. Playing Monopoly with real money , and it is considered as a form of gambling, and playing Monopoly with the in game currency, and it is considered a board game. And if the same logic applies, playing Mahjong without real money and with the in game currency (chips, riichi sticks), then Mahjong isn't a form of gambling at all.
像其他大多数棋类游戏一样(如大富翁,大战役等),麻将是一种基于运气和策略的游戏。打麻将的时候有运气的成份存在,但这并不代表打麻将的唯一目的就是赌博。用真钱玩大富翁,人们就认为它是一种赌博形式,用游戏币玩大富翁,人们就认为它是一种棋类游戏。如果这个逻辑对麻将同样适用,人们在打麻将的时候使用的是游戏币而不是真钱,那它根本就不算一种赌博形式。
By Dasaru
Mahjong is a "gambling game".
麻将不是一种赌博游戏
A gambling game implies that the game itself is designed or geared towards gambling with money. Since mahjong often times uses point sticks that represent money (like chips in poker), then it is considered a gambling game.
赌博游戏指的是这个游戏本身的设计就是用钱赌博,由于麻将经常用竹签(或扑克牌)来代表钱,所以人们认为它是一种赌博游戏。
It's not outside of the norm to see people playing mahjong for money. However, playing other board games for money can be considered strange and awkward since you'd need to build a system for determining how to convert game points into money.
看到人们为了钱而打麻将是一件很正常的事情,但是,为了钱玩其他棋类游戏的时候,我们就会觉得奇怪、有点笨拙,因为你的头脑里得有一个系统的概念来决定如何把游戏点转换成钱。
There are many mahjong parlors in other countries (like Japan) where it's normal to gamble on a game of mahjong similar to casinos hosting poker games. So you could also define a gambling game by whether the game is common in casinos/parlors. If, for some reason, tic-tac-toe becomes played for money at parlors and a system of money exchange is created, then it would be considered a gambling game as well.
其他国家有许多麻将馆,打麻将赌博就跟玩扑克赌博一样正常(如:日本),所以,判断一种游戏算不算赌博,要看它在赌场是否普遍。如果由于某种原因,井字棋在馆里成为一种赌钱的游戏,而且也创造了一种兑换钱的系统,那人们同样会认为它是一种赌博。