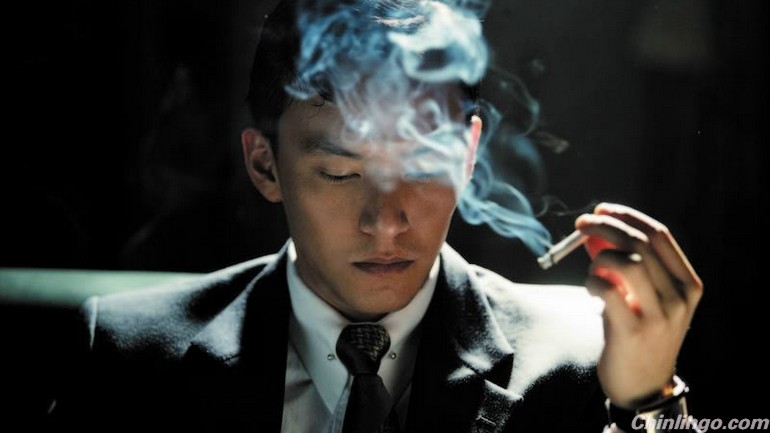 Ugh…everywhere you look, there's an image of an attractive woman…no matter if you're on the subway, in a mall, at the airports or magazine stands, watching TV or browsing websites.The female physique is indeed eye-catching and intriguing (especially if half of her boobs are popping out of her skin-tight dress), regardless of your sexual orientation or gender. However, as a celebrity-obsessed, fashion magazine-buying female, I must admit that I'm bored to death of seeing beautiful women on every billboard, advertisement and magazine cover. In fact, I am so bored of these beautiful women that I fail to even see their uniqueness. It's therefore time that the world is bombarded with more images of hot men …so without further ado, here's my list of the hottest Chinese actors according to me.
1. Zhang Fengyi
This guy first grabbed my attention in the film Farewell my Concubine, playing the husband of Gong Li and then later as a long-haired assassin in The Emperor and the Assassin. Tall (apparently 182 cm), manly and very dishy, Zhang Fengyi is definitely easy on the eye. And just like George Clooney, the passage of time has done nothing but good to Zhang's overall looks – at 56 he's oozes sex appeal. Despite being old enough to be my dad, I would take him home any day!
2. Zhang Zhen
Zhang Zhen made my knees soften when I first saw him as the rugged horseman in Crouching Tiger Hidden Dragon who become Zhang Ziyi's lover in a desert hideaway. When the movie ended I had acquired a full-on celebrity crush on him (and a loathing for Zhang Ziyi). Zhang Zhen is actually Taiwanese, but since he's starred in loads of Mainland films I think he qualifies to be on this list. He is not only a strikingly beautiful man, but he comes off as intelligent, kind and artsy. If I had to pick my overall favorite from this list, then Zhang Zhen would be it!
3. Wen Zhang
This guy is my latest discovery. He first caught my attention at Beijing Airport when I saw him on a tacky Chinese movie poster. His tangly hair on the poster stood in sharp contrast to his soft, yet enticing face. After doing some googling, I found out that Wen Zhang is already quite an accomplished star and is married to a woman eight years his senior – ooh la la! That is quite unusual in China so that has only deepened my intrigue towards him. I will admit however, that when he doesn't have tangly, long hair he looks a little too fresh faced and boyish for my taste so I will keep my eye on him and hopefully his manliness will measure up to Zhang Fenyi and Zhang Zhen's once he's grown a bit of facial hair.
4. Jin Chengwu (Takeshi Kaneshiro)
Takeshi Kaneshiro is the quintessential Asian babe. Drop-dead gorgeous, fit body and multi-lingual, who in their right mind wouldn't date this hotty? For me, my heart started fluttering when I first saw him in House of Flying Daggers – in fact, I liked what I saw so much that I went to see House of Flying Daggers in the cinema twice! Call me shallow, but a piece of eye candy as perfect as Takeshi is very hard to come by!
5. Liu Ye
Liu Ye's career has really taken off big time over the past few years, but I already my eye on him when most people hadn't even heard of him. Playing (one of) the love interest(s) in Balzac and the Little Seamstress, Liu Ye's beautifully sculpted face, warm eyes and intelligent charm sucked me in. He continued to impress in roles like Dark Matter, The Founding of a Party and Curse of the Golden Flower. In real life, Liu Ye is very much off the market though, having married a French photographer in 2009.
I'm sure there are many more super-hot Chinese actors I have not yet discovered, so ladies, if you have a crush on someone not mentioned in this list, feel free to let me know. Mrah hahaa….