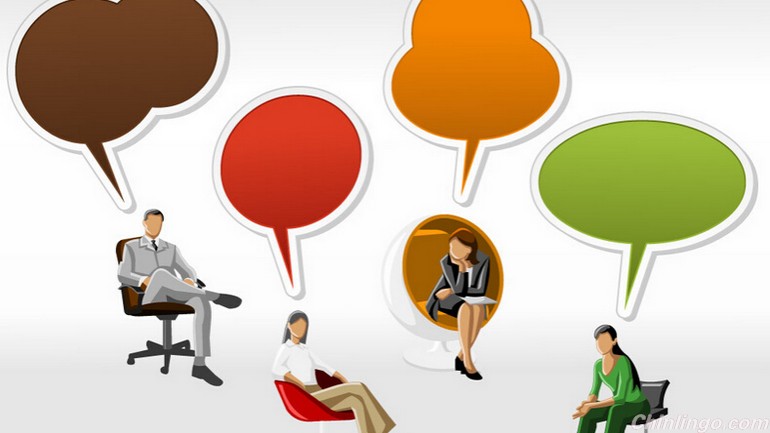 If we consider any of the major issues the global community faces during the remainder of the 21st century, there is no mistaking the fact that China occupies an important seat at the table where solutions must be sought.
假如我们思考一下国际社会在21世纪剩余的时间内将要面临的主要问题,一个决不会误判的事实就是——中国将在寻求各种解决方案的过程中占有重要的席位。

It follows that all interested parties, whether countries or organizations, should provide qualified experts devoted to the process of engaging in that series of dialogues and the search for solutions to the many vexing challenges the world faces.
随之而来的,所有涉及到的利益方,无论国家还是组织,都应派遣资深专家参与相关的系列对话,为解决困扰世界的诸多难题寻找答案。

Anyone who has ever been a part of a discussion on a complex set of issues involving two groups who do not speak each other's language will appreciate the tremendous value of a qualified and competent interpreter.
凡是参与过由言语不通的双方就一系列复杂问题进行讨论的人,都应该了解高水平的称职译员所带来的巨大价值。

Conversely, when such discussions rely on an interpreter with weak skills, the result can be a nightmare, not to mention an enormous time-waster, generator of potentially serious misunderstanding, and amplifier of misperception.
相反,如果这种讨论假自水平较差的译员之手,最终结果可能会以噩梦告终,更别提时间上的巨大浪费、潜在生成的严重误解、乃至对误解的进一步放大。

Think forward, then, to the year 2020, and consider where the qualified linguists to support this global dialogue — at least the part of it relying on the English and Chinese languages — will come from, and who is currently paying for the lion's share of their training.

展望2020年,想象一下这种——至少部分依赖于中英双语的——全球对话所需的合格外语人才将是何方神圣?而眼下谁又在为培养这些人才一掷千金?

For starters, as I wrote a few weeks back, Chinese consumers are spending on the order of US$4.5 billion this year on private English-language education and related test preparation services within China, and the forecast increase in spending is on a sharp upward curve. They are also going abroad to obtain college and university degrees in English-speaking countries, in record numbers.
我在几周前的博客中曾经提到,作为初级阶段,中国消费者今年在国内私立英语学校和考前培训项目上共花掉了45亿美元,未来对这一数字的预测也出现了直线上升的趋势。同时,中国学生前往英语国家攻读大学学位的人数也创下了历史记录。

Some 128,000 Chinese began degree programs in the U.S. in 2010. In the same year, 13,000 Americans came to China to study. The majority of these were not for degree programs, but rather for one semester or one year courses of study. I don't have the data for exchange students in China hailing from other English-speaking countries, but I am confident the Chinese going abroad for degree programs to English-speaking countries overwhelmingly outnumber those coming to China to study, as they do on a 10 to 1 basis in the US-China context.
2010年,共有超过128,000名中国新生赴美攻读学位。同年,也有13,000名美国学生来华留学。但他们大多不是为了获得学位,而只是参加一个学期或一个年度的短期学习。我手上没有其他英语国家对华交换学生的数字,但我相信出国攻读学位的中国留学生和来华学习的外国学生相比,在人数上占有绝对的优势,就象中美留学生的比例达到了10比1一样。

Obviously, the language learning opportunity presented by a six to 12 month stay in a foreign country is excellent, but very limited when compared to a full four-year degree program.
很明显,能在异国他乡生活6到12个月对外语学习非常有利,但怎么也比不过读完4年学位积累的语言优势。

Apart from private English schools and test preparation programs in China, the estimated total number of Chinese of all ages studying English in schools of all sorts is currently 300 million.
中国除私立英语学校和考前培训项目之外,在各种学校学习英语的各年龄段学生的总数目前估计达到了3亿人。

On the Chinese studies front, there has been a boom in interest and enrollment across the globe during the past 5 years. University enrollment in Chinese studies courses has soared, and more and more elite secondary schools are teaching Chinese — in Europe, North America, Australia, India and so on. Many Korean students enroll in Chinese universities for full degree programs.
在汉语学习方面,过去5年,全世界无论是对汉语学习的兴趣还是学习者人数方面都出现了一个高潮。大学汉语课的报名人数猛增,越来越多的精英中学开始教授中文——欧洲、北美、澳大利亚、印度和其他地方的情况都是如此。很多韩国学生还报考了中国大学的学位课程。

The Confucius Institutes have contributed positively to the spread of Chinese language studies through funding support, provision of qualified teachers, and teaching materials. Funded by the Chinese government, they now support nearly 350 classrooms in almost 100 countries around the world. An associate recently told me there are 16 Confucius Institute Chinese teachers at the secondary level in Salt Lake City alone.
孔子学院为推广汉语学习作了很多积极的贡献,他们不仅提供资金援助,还派遣合格的师资力量,并提供教材。在中国政府的支持下,目前他们已在全球近100个国家设立了350间汉语教室。最近一位同事告诉我,仅盐湖城一地的中学就有16名孔子学院的汉语老师。

While the Voice of America, the BBC and Australia Broadcast Network all provide English learning programming through broadcast and online channels, none of their host governments provide funding support or directly operate broad-based English language educational programs in China.
虽然美国之音、BBC及澳大利亚广播网也都通过广播和网络提供了学习英语的计划,但他们所在国的政府并没有出资或直接在中国经营英语学习项目。

The U.S. has some 100 Peace Corps volunteers who teach English in various parts of China. The British Council is a major provider of high quality ESL classroom instruction in Hong Kong, but not on the Chinese mainland.
美国大约有100名和平队的志愿者在中国各地教授英语。英国文化委员会是香港高素质英语教室的主要提供者,但在中国内地却没有设点。

Undoubtedly budget constraints are a part of the problem, and there are probably other factors as well.
预算限制无疑是症结之一,但也许还有其他因素在内。

Be that as it may, the unmistakable fact is that between them, Chinese consumers and the Chinese government are investing the lion's share of the cost of training the next generation of qualified bi-lingual English-Chinese interlocutors.
如此这般,确凿的事实就是中国消费者和中国政府正在为培养下一代高素质的中英双语对话专家支付大部分费用。

Looking ahead to the year 2020, there will be an enormous imbalance in the size of the global population of advanced Chinese learners of English as compared with native English speakers who have attained advanced proficiency in Chinese.
放眼2020年,全世界学习高级英语的中国人和熟练掌握汉语的英语母语人口将出现严重的比例失衡。

Unlike a trade imbalance, maybe this kind of imbalance really doesn't matter, as long as the required skills are readily available in the market. Nonetheless, it's an interesting new phenomenon on which to reflect.
这种失衡和贸易失衡不同,也许无关紧要,因为只要市场能够提供出所需的技能即可。尽管如此,它所反映出的新现象还是颇有意思。

Regardless of where they were born or pursued their language studies, people with advanced skills in Chinese and English will be in very hot demand.
未来无论你生在何处,在哪里学习外语,只要你中英文水平过硬,就是炙手可热的人才。