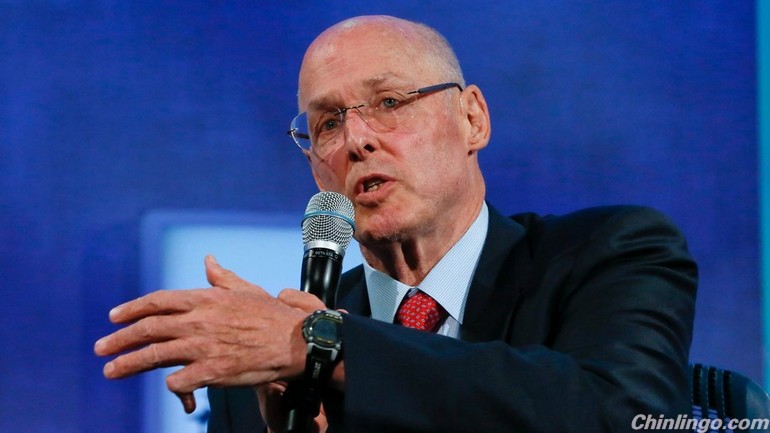 About 340 pages into Henry M. Paulson's new book on China, a sentence comes almost out of nowhere that stops readers in their tracks.
"Frankly, it's not a question of if, but when, China's financial system," he writes, "will face a reckoning and have to contend with a wave of credit losses and debt restructurings."
Mr. Paulson, the former Treasury secretary, knows a thing or two about financial crises, having been the lead firefighter during the 2008 financial collapse, the worst financial crisis since the Great Depression. Mr. Paulson also knows more about China, its politics and the players behind it than most Westerners, having been the former chief executive of Goldman Sachs and one of the first businessmen to seek to establish ties with China more than two decades ago, regularly making trips to the country and befriending top officials.
A crisis in China, even a small one, would be contagious, especially in the United States. Already, fears of a slowdown in China in recent months have led to jitters about the trajectory of the American economy.
Mr. Paulson stresses that he's not saying a crisis is inevitable, and he believes that one can be averted if officials make the right policy decisions.
But Mr. Paulson's anxieties about China have an unnerving similarity to the financial crisis in the United States, and his warnings demand attention.
Like the United States crisis in 2008, Mr. Paulson worries that in China "the trigger would be a collapse in the real estate market," and he declared in an interview that China is experiencing a real estate bubble. He noted that debt as a percentage of gross domestic product in China rose to 204 percent in June 2014 from 130 percent in 2008.
"Slowing economic growth and rapidly rising debt levels are rarely a happy combination, and China's borrowing spree seems certain to lead to trouble," he wrote.
Mr. Paulson's analysis in his book, "Dealing With China: An Insider Unmasks the New Economic Superpower," is all the more remarkable because he has long been a bull on China and has deep friendships with its senior leaders, who could frown upon his straightforward comments.
Mr. Paulson is hopeful that the book, an eye-opening account that praises China while acknowledging the challenges, will be published there and that the government won't seek to press him to remove his critique. "I have just begun discussions with a Chinese publisher," he said. "I will only authorize publication if it is published completely and accurately. I am unwavering on that."
Mark Zuckerberg, the founder of Facebook, just added "Dealing With China" to his book club, an interesting choice given that Facebook is blocked in China.
In the book, Mr. Paulson says he is particularly worried about China's opaque trust companies, which have nearly $2 trillion and make up a big part of the country's shadow banking system. These companies sell high-yield investments known as wealth management products and use the money to make loans to often-risky borrowers.
Mr. Paulson is not the first person to sound the alarm. A Credit Suisse analyst called the trust companies a ticking "time bomb."
Perhaps most unnerving is a "too big to fail" mind-set among the financial industry's senior leaders that sounds all too familiar. In their view, if a trust company were to fail, the government would come to the rescue, leading all of them to take even greater risks.
"One of the biggest problems in China's banking system is the moral hazard created by the expectation that the government will always step in to prop up a failed institution and assume losses," Mr. Paulson wrote. "If the government is to discourage bad behavior on the part of market participants counting on a government bailout, it is crucial to decide clearly and decisively which institutions are systemically important and need to be supported and which creditors and investors should share in the losses."
Of course, the tricky part for China's government will be picking the winners and losers. As was his approach in the United States, Mr. Paulson advocates saving certain institutions, calling it "an unpleasant necessity" and suggesting that inside China, unlike the United States, there is "the political will to bail out failing financial institutions."
Also unlike the United States, it is not clear that the public will ever fully know the depths of a bank's problems. "Transparency in China too often means the government having all the information," Mr. Paulson told me.
One of the ways China has managed to artificially inflate the economy, Mr. Paulson said, is the way in which municipalities have freely spent on infrastructure. "To oversimplify it, to fund themselves, if they need money, they take someone's land and sell it to developers," he said, explaining, "They don't have the revenue to meet all their responsibilities."
Mr. Paulson said that with $4 trillion in reserves and an experienced financial team within China's top ranks, the situation should be "manageable" if "they do not revert to the flawed municipal finance model to boost growth." He added: "The Chinese government totally understands this."
But he said, "The longer they wait to address this problem, the more costly it will become and the more likely that it will disrupt the real economy."