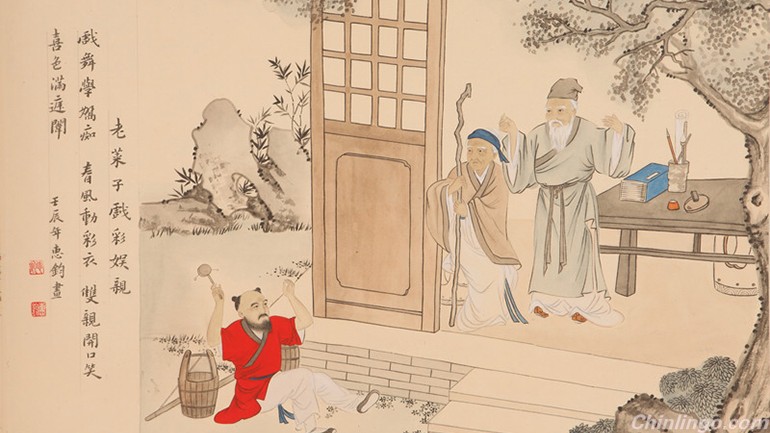 Lao Laizi was an anchorite in Spring and Autumn Period. He did farming at the
south side of Meng Mountain to avoid the chaos in that period.
老莱子,春秋时期楚国隐士,为躲避世乱,自耕于蒙山南麓。
He held great filiality to his parents.
他孝顺父母.
He fed the parents with the most delicious food; entertained them with
drum-shaped rattle playing when he was in his 70s, wearing colored clothes just
like a child.
尽拣美味供奉双亲,70岁尚不言老,常穿着五色彩衣,手持拨浪鼓如小孩子般戏耍,以博父母开怀。
Once, when he was on his way to bring water to his parents, he tumbled.
一次为双亲送水,进屋时跌了一跤
He thought the parents might be worried about him, he just cried on the floor
like a child, which made the parents laughed.
他怕父母伤心,索性躺在地上学小孩子哭,二老大笑。

This is the story about "戏彩娱亲".
这就是戏彩娱亲的故事了。