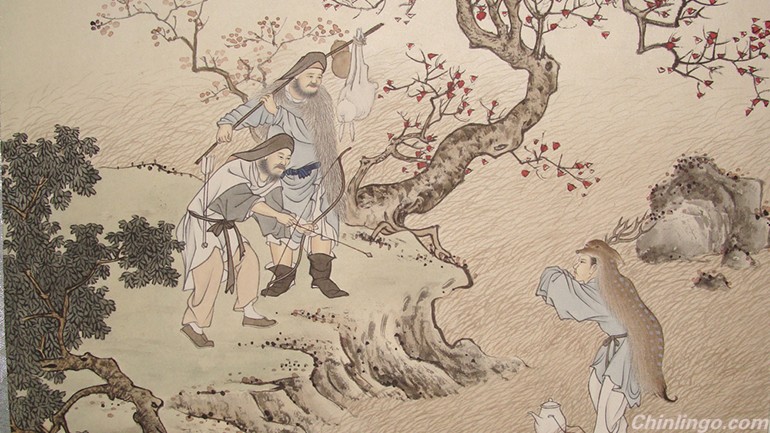 Tan Tzu was a man in the Spring and Autumn Period.
郯子,春秋时期人。
As his parents were very old and suffered from eye disease, they need to
drink deer's milk for treatment.
父母年老,患眼疾,需饮鹿乳疗治。
Tan Tzu wore a piece of deerskin and groped into the mountains; he sneaked
into herds of deer and squeezed deer's milk to serve parents.
他便披鹿皮进入深山,钻进鹿群中,挤取鹿乳,供奉双亲。
On one occasion when he was taking milk, he saw a hunter was going to shoot a
muntjac deer, Tan Tzu lifted deerskin and appeared in a hurry, and then he told
this hunter about the facts of squeezing deer's milk to cure patients' disease.
一次取乳时,看见猎人正要射杀一只麂鹿,郯子急忙掀起鹿皮现身走出,将挤取鹿乳为双亲医病的实情告知猎人.
The hunter respect his filial piety and donated deer's milk. Finally, the
hunter escorted him out of the mountains.
猎人敬他孝顺,以鹿乳相赠,护送他出山。
This is the story about "郯子鹿乳".
这就是郯子鹿乳的故事了。