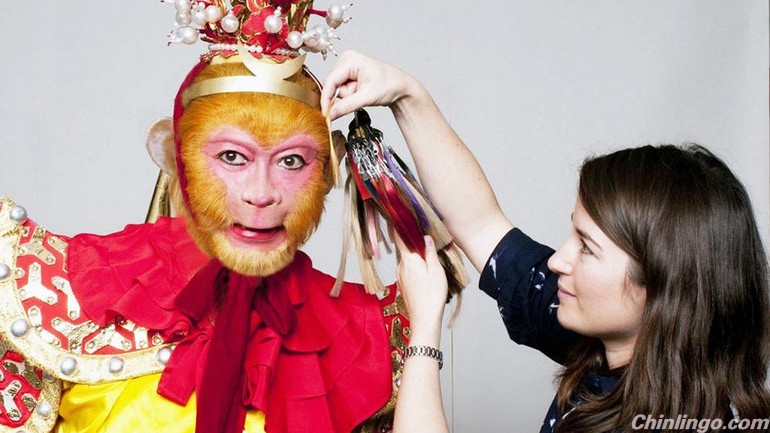 The legendary Monkey King actor Zhang Jinlai will see a wax figure of himself unveiled at Madame Tussauds' Beijing branch later this month.
Madame Tussauds Beijing has invited Zhang for a London tour, which included a meeting with the professional artists at Madame Tussauds London. The artists measured Zhang's body and hair while he was dressed in the Monkey King costume and makeup, collecting 370 pieces of data in more than four hours.Zhang Jinlai, known by his stage name Liu Xiao Ling Tong (literally "Little Six Year Old Child"), is a household name in China famous for his role as the Monkey King (Sun Wukong) in the hugely popular 1986 television series "Journey to the West." The series has been replayed almost 3,000 times on various Chinese TV channels in the nearly two decades since it aired.
The Monkey King will become the first figure from Chinese mythology to be exhibited in Madame Tussauds Beijing at end of April.
"Zhang's outstanding acting skills and precise interpretation of the character make him irreplaceable through the changing eras," Madame Tussauds Beijing said in a statement.
Zhang is starring in a new 3D fantasy film project, tentatively entitled "Dare Ask Where Is the Way" — reportedly an adaptation of "Journey to the West" — that will begin filming on April 15. China's Ruyi Films, Jiabo Culture and the American studio Paramount Pictures will co-produce the film.
Madame Tussauds' Beijing branch, owned by Merlin Entertainments Group, opened in May 2014 on Qianmen Street, a landmark pedestrian street at the southern end of Tiananmen Square. The Beijing attraction is the fourth Madame Tussauds to open in China. The three older branches are located in Hong Kong, Shanghai and Wuhan.