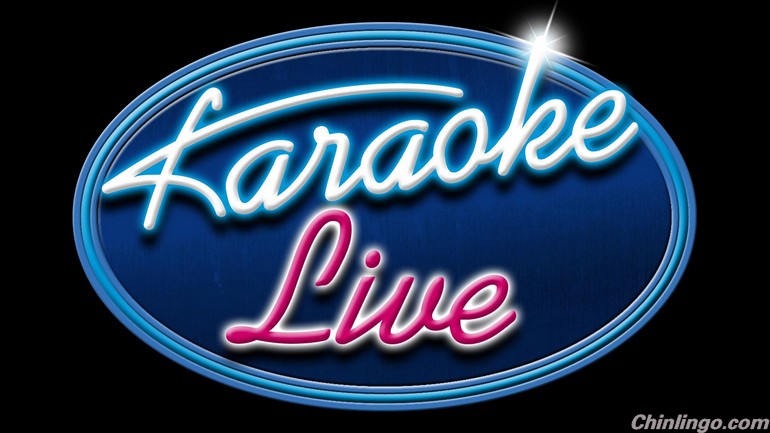 Karaoke is one of the most popular social activities in China. As such, it's one of the best ways to develop local friendships or impress your Chinese colleagues. Unfortunately, when foreigners go to a KTV, we encounter substantial language barriers with the music, struggling to keep up with most Chinese karaoke songs. Below, we've included 10 easy and fun Chinese songs that you can learn with minimal effort—listed by difficulty from easiest to hardest. Check out the Youku videos below, then follow the links to the Chinese lyrics and copy and past them into the MDBG Chinese-English Dictionary to see the English and pinyin translations!
1) The Moon Represents My Heart – Teresa Teng
A classic song made famous by Taiwanese singer Teresa Teng in the 1970's, "The Moon Represents My Heart" is one of the most famous love songs in China's history. The chorus uses very easy words and repeats multiple times:
"You go think a bit, You go look a bit, The moon represents my heart…"
"你去想一想,你去看一看,月亮代表我的心…"
Chinese name: 邓丽君《月亮代表我的心》
Bottom line: The quintessential Chinese love ballad, a song every Chinese knows
2) Buy and Sell Love – Murong Xiaoxiao
Released in 2009, this song was Murong Xiaoxiao's most popular ever, being downloaded over 70 million times according to Baidu Baike. With simple lyrics and an easy rhythm, it's a good choice if you're looking for a more recent karaoke song.

Chinese name: 慕容晓晓《爱情买卖》

Bottom line: A typical example of the bubblegum pop that dominates Mandopop today
3) High Song – Huang Ling
Huang Ling first recorded "High Song" in 2007, but it recently saw a resurgence in popularity when she sang it on The Voice of China in 2012 with contestant Zhang Wei. It is easy to sing because of the constantly repeating lyrics—including English lyrics like "mountain top," "day and night" and "yi yi yi yi yi yi yi yi yi…"
Chinese name: 黄龄《High歌/嗨歌》
Bottom line: A rock-influenced ballad that became famous on China's most popular singing competition show
4) Friend – Wakin Chau
Among the more than 40 albums Wakin Chau released in his career, the song "Friend" off his 1997 albums Friend remains one of his most popular for expressing the beauty and trial of true friendship. Wakin Chau has released albums in Mandarin, Cantonese, and English, and has acted in 20 films.
Chinese name: 周华健《朋友》

Bottom line: An ode to friendship by an international singing and acting star
5) Goodbye Kiss – Jacky Cheung
Jacky Cheung's 1993 album The Goodbye Kiss helped establish him as one of the "Four Heavenly Kings of Cantopop." Later, the band Michael Learns to Rock remade the title track of the album as "Take Me to Your Heart," and it was one of the most downloaded songs of 2006, and is still very popular in Asia.
Chinese name: 张学友《吻别》
Bottom line: Popular in Asia in its original form and later as an English-language remake
6) Super Star – S.H.E.
"Super Star," the title track of S.H.E.'s second album, is one of the Taiwanese super group's most popular songs ever. It is a love song from a girl aimed at a boy who is her super star (though boys can still sing it to their super star girl). The chorus goes:
"You are electric. You are light. You are the only mythical [person]! You are my super star!"
"你是电,你是光,你是唯一的神话. You are my super star!"
Chinese name: S.H.E. 《Super Star》
Bottom line: The most popular song of the pioneering girl group S.H.E.
7) Happy Worship – William Pan and Angela Chang
If you've conquered the other songs, here's a fun challenge. "Happy Worship" is a Chinese hip-pop song with William Pan rapping. It still uses relatively simple lyrics that repeat somewhat often, but it is harder than the previously mentioned songs—and also more fun.
Chinese name: 潘玮柏 张韶涵《快乐崇拜》
Bottom line: A Chinese rap song if you are up for the challenge
Bonus – popular English-language songs
Whether or not a Chinese karaoke fan knows what the lyrics mean, it's likely they know and appreciate the music of Michael Jackson, Lady Gaga, and other super pop stars. In fact, Lady Gaga is so popular in China that some youth even started saying, "Oh, my Lady Gaga!" instead of "Oh, my God!" in 2010.
Here are a few recommendations for English songs that Chinese people like:
"Beat It" – Michael Jackson
"Billie Jean" – Michael Jackson
"Bad Romance" – Lady Gaga
"Rolling In The Deep" – Adele
"I Gotta Feeling" – Black Eyed Peas
"Its My Life" – Bon Jovi