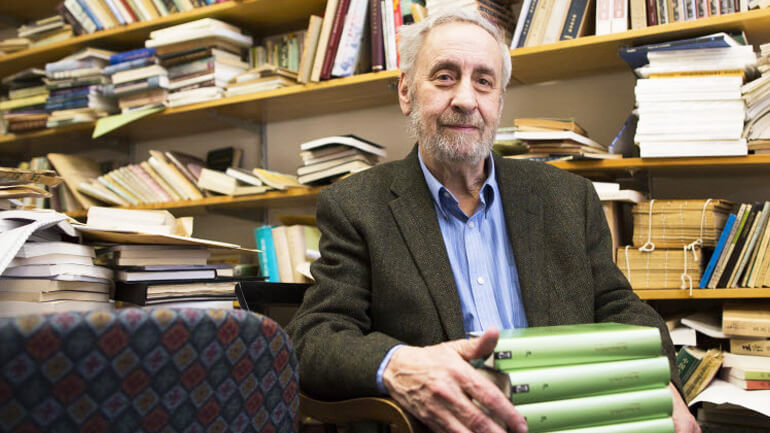 Stephen Owen, a Harvard sinologist, has completed the first English translation of the complete works of Tang Dynasty poet Du Fu. Stephen Owen spent eight years on "The Poetry of Du Fu," a 3,000-page and six-volume translation published by De Gruyter.
美国哈佛著名汉学家宇文所安历经8年埋头耕耘,终于出版了杜甫诗歌全集的英语全译本《杜甫诗》,这部有3000页、共六卷,是学界第一次完整英译杜甫作品。
Owen expected the translation to take three years, but teaching responsibilities and speaking engagements set him back numerous times. "It owns you. I got teaching relief for a couple of semesters, and I worked on it and I worked on it. It wasn't that I was lazy," he said. Owen, who is 69, worked primarily alone, allowing a graduate student to go over the work only after it was complete.
宇文所安原本预计花三年完成的翻译,因为教学、讲座任务缠身,花了八年时间。"它占据了我的生活。我虽然有多个学期都不用教书,但我不停地工作、工作再工作,并没有偷懒。"今年69岁的宇文所安大部分时候都是一个人在进行这项翻译工作,只是在作品完成后有一个研究生帮助他进行校对。
"Du Fu's a great person to translate, but there goes eight years of your life. Finally it's done," he said.
"杜甫的作品非常值得翻译,但是这占据了我生命中的八年时间。我终于完成了。"他感叹道。
Like the Bard of Avon, Du Fu's writing is layered and shows immense range. The elusive poet wrote in a wide variety of styles and registers. Inside the green-bound volumes are acclaimed verses such as "Moonlit Night" and "View in Spring," but Owen argues that Du Fu "is a lot more fun when you get out of the well-known ones."
像"埃文河畔的诗人"一样,杜甫的作品层次丰富,涉猎广泛。他的诗作风格和用词都很多变。这本绿皮包装的译作中有知名的诗作《月夜》和《春望》,不过,宇文所安教授却表示杜甫"在这些广为人知的诗作之外更加有趣。"
"He's a quirky poet. When he moves to Chengdu with his family, he has to set up house and writes a poem to people asking for fruit trees and crockery. No one had ever done this kind of poem. He has a poem praising his bondservant Xinxing for repairing a water-piping system in his house. It's a wonderful poem about the joy and discoveries of living in the real world instead of living in the rarefied poetic world," Owen said.
宇文所安教授说:"杜甫是个挺奇怪的诗人。他和家人搬到成都以后,他得打点修整宅院,还给人写诗换果树和陶器。从来没有人写过这样的诗。他曾经给他的家奴新兴写了一首诗,称赞他修好了宅子里的水管。那是一首好诗,讲的是生活在现实世界的欢乐和新发现,他不是生活在世人罕见的诗意世界。"
Here is an example in the book:
来看看其中一篇诗歌:
Gazing on the Peak
望岳
And what then is Daizong like?
岱宗夫如何,
over Qi and Lu, green unending.
齐鲁青未了。
Creation compacted spirit splendors here,
造化钟神秀,
Dark and Light, riving dusk and dawn.
阴阳割昏晓。
Exhilirating the breast, it produces layers of cloud;
荡胸生层云,
splitting eye-pupils, it has homing birds entering.
决眦入归鸟。
Someday may I climb up to its highest summit,
会当凌绝顶,
with one sweeping view see how small all other mountains are.
一览众山小。
You can read the book for free at degruyter.
*Have you ever read the poems written by Du Fu? What do you think of his writing style?
The article is translated and editted by Chinlingo. Please indicate the source (info.chinlingo.com) for any use, reproduction or transfer.
本文由Chinlingo编译后发布,如需转载,请标明来源:info.chinlingo.com.