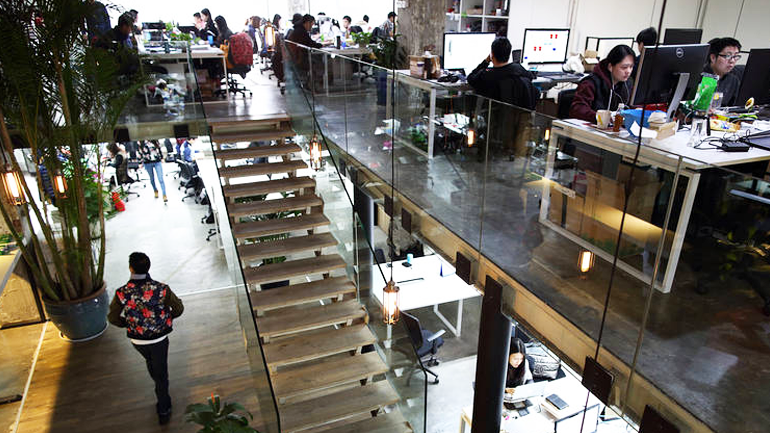 Amid the fervor for entrepreneurism sweeping across China, a new survey shows that Beijing is considered to have the country's best environment for startups.
在创业热潮席卷中国之际,一项新调查显示,北京成为创业者心中最好的创业城市。
The survey, conducted by the National Survey Research Center at Renmin University of China, Qianhai Institute for Capital Management and Shanghai Huihang Business Consulting Co., Ltd. interviewed 2,100 entrepreneurs across 21 cities and ranked each place based on its policy, market and cultural environment as well as the activities of entrepreneurs there.
此项调查对中国21座主要城市2100位创业者进行了访问,并根据政策支持、市场、文化环境以及当地创业者活动情况对每座城市进行了排名。此项调查由中国人民大学调查与数据中心、前海国际资本管理学院和上海汇航商务咨询有限公司联合进行。
The report by Renmin University and its partners found that more than 30% of all respondents view Beijing as having the best startup environment. Cities in the Yangtze Delta region such as Ningbo, Suzhou and Shanghai rank in the second tier, while cities in China's northeast rank lower.
中国人民大学及其合作方发布的报告称,超过三成的受访者认为北京的创业环境最好。宁波、苏州和上海等长三角地区的几个城市位居第二梯队。东北地区的城市创业环境排名较低。
Twenty-one percent of startups said they weren't profitable yet, and the ones that have made money said their median annual profit was about 150 million yuan. Only 8.5% of the startups surveyed said they had received venture capital, with most having been funded instead by family, friends and colleagues.
21%的创业者表示目前尚未取得盈利,而已经实现盈利的受访者表示,其年利润的中位数为人民币1.5亿元左右。仅8.5%的受访创业者表示获得了风投资金,大部分创业者的资金来自家庭、朋友和同事。
The top 3 problems cited by the entrepreneurs were China's tax preference system, financing channels and the efficiency of government departments.
这些创业者最多提及的在营业中面临的三大问题是中国税收优惠体系、融资渠道和政府部门的办公效率。
One notable exception from the higher tiers of the list was the southwestern metropolis of Chengdu. The Sichuan provincial capital has worked to fashion itself as an ideal city for startups — yet it ranks 12th in the overall ranking and 19th in terms of market environment.
令人注意的是,成都在《中国城市创业指数》榜单上的排名并不是很靠前,而这个西南大都会一直标榜自己是创业的理想城市,但该市的综合排名仅为12,市场环境排名为19。