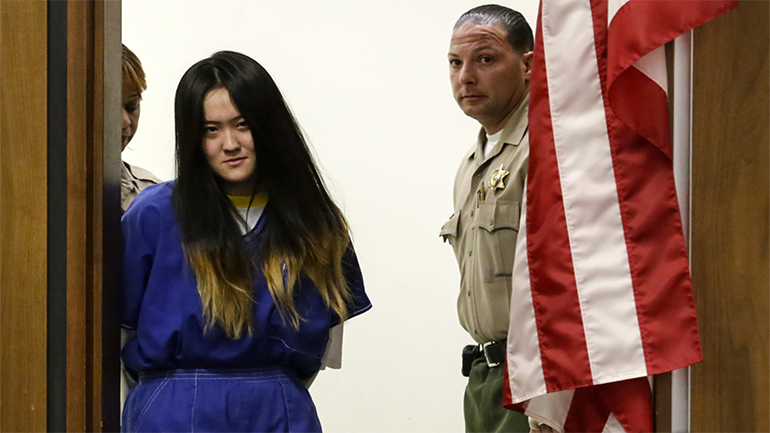 Yunyao Zhai steps into court for sentencing hearing.
Three students from China were sentenced to prison on Wednesday in California for kidnapping and assaulting another Chinese teenager in Los Angeles in March 2015.
周三,三名在美国加利福尼亚留学的中国学生因2015年3月绑架并攻击另一名中国青少年被判刑。
Zhai Yunyao was sentenced to 13 years in prison, Yang Yuhan was sentenced to 10 years in prison and Zhang Xinlei was sentenced to six years in prison.
翟某被判刑13年,杨某被判刑10年,张某被判刑6年。
They would be expelled from the US as well when serving out their jail term, judges said.
法官介绍,三人刑满释放时将会驱逐出美国。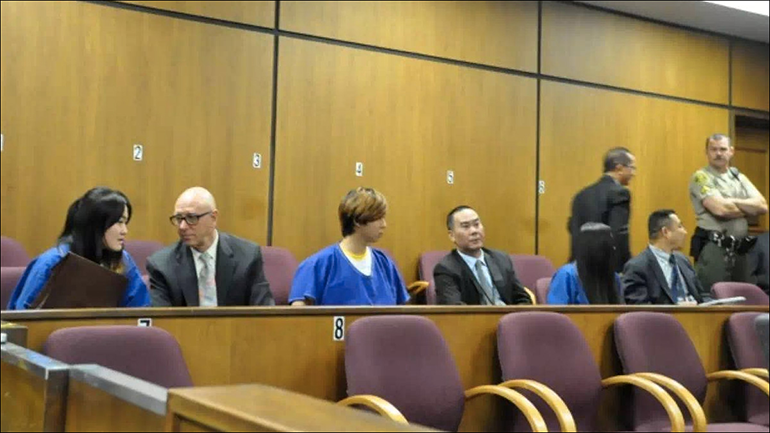 The three defendants, all of whom were born in 1996, were accused of abducting and torturing their classmate.
The three defendants, all of whom were born in 1996, were accused of abducting and torturing a fellow female Chinese student in March in Rowland Heights, an affluent, unincorporated community in Los Angeles County with an almost 60 percent Asian population.
三名犯罪人均出生于1996年,因去年3月在罗兰高地劫持和绑架一名中国女学生而被指控,罗兰高地位于有近六成是亚洲人口居住的富饶洛杉矶县内。
The victim said they beat her, stripped her clothes off and even burned her nipples with lighted cigarettes. She was also forced to the ground to eat sand.
三名犯罪人员说,他们殴打那个女孩儿,并扒光衣服,甚至用点燃的烟头烫她的乳头。还逼迫女孩趴在地上吃沙子。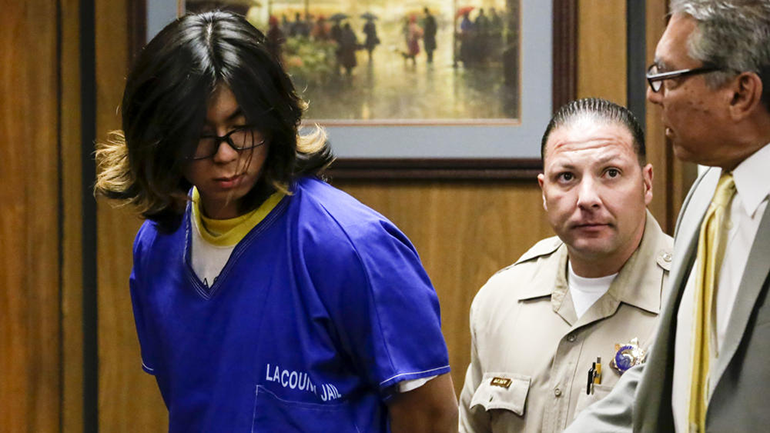 Xinlei "John" Zhang was sentenced to six years for his role in the

in the kidnapping and assault of another Chinese teenager.
According to the girl's statement, the torture lasted five hours, and the assault left her seriously injured.
根据这位女孩的口述,凌虐行为持续了5个小时,她受到严重伤害。
The prosecutors dropped charges of torture against them after the three admitted crimes of kidnapping and bodily injury and assault.
三人承认了绑架和身体凌辱女孩儿后,检察官撤销了对他们进行身体折磨的控诉。
In their statements, the defendants all apologized to the victim, who said she forgave her attackers.
在他们的供述中,三名被告向受害人表示道歉,受害人予以原谅。
Yang said in a statement that "this is a wakeup call for the 'parachute kid syndrome'", referring to teenage students sent by their parents to study abroad alone.
杨某在声明中写到,这件事告诫中国家长在缺少监管的前提下送孩子赴美留学要三思。
"Parents in China are well-meaning and send their kids thousands of miles away with no supervision and too much freedom. That is a formula for disaster," she said, according to the Los Angeles Times. "Along with that came a lot of freedom, in fact too much freedom … Here, I became lonely and lost," another defendant Zhai said in her statement.
"中国家长送孩子远洋留学用心良苦,但是没有适当的监管和太多的自由,这是酿成灾祸的主要根源,"洛杉矶时报透露,"赴美留学给我们太多的自由。在这里我们孤独,但迷茫"另一位被告人翟某说道。