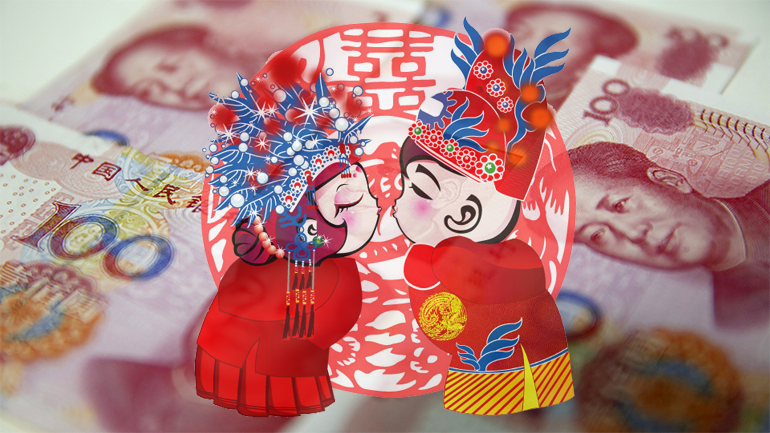 Bride prices, a traditional prerequisite for marriage, are increasingly becoming a miserable burden for families in rural areas across China as it has spiked sharply in recent years. Young men go to cities to work hoping they could improve their family's life, but they often come back to find that what they have earned is insufficient for them to get a wife.
作为婚姻的传统条件,近年来一路走高的彩礼,正日益成为中国农村家庭沉重的负担。年轻人怀揣着能改善家庭生活水平的美好愿望去城市打工,但回到老家才发现,他们挣的钱连个媳妇也娶不到。
Most parents in China would be happy to find out that their son has found a girl to marry. But Huang, a mother in her 40s from Central China's Henan Province is unable to relax, despite the good news. When her eldest son came back from Guangzhou, South China's Guangdong Province for Spring Festival and was introduced to a girl by a relative, she knew that this was just the first step.
儿子找到结婚对象了,大多数的中国父母都是很开心的。然而,来自中国中部河南省的40多岁的黄妈妈却对这个好消息开心不起来。她的大儿子从中国南部广东省回来过年了,亲戚给介绍了一个对象,她知道,这仅仅是开始。
Though Huang's family has already offered the girl around 20,000 yuan ($3,072) in gifts, she is still free to go on more blind dates. Traditionally, the only way for Huang to guarantee she'll marry her son is to offer her family a substantial sum of money as a bride price to seal the engagement. But Huang doesn't have that kind of cash to hand.
尽管黄家已经给了这个姑娘2万元作为见面礼,但她仍可以自由相亲。传统上来说,保证她和黄家大儿子结婚的唯一方法是,给她家一笔相当可观的彩礼钱来定下这门亲事。但是黄家拿不出这么多钱。
A typical bride price in Xincai county, which has been designated by the central government as an impoverished area, has risen sharply in recent years, from 66,000 yuan around five years ago to more than 100,000 yuan now, greatly outpacing growth in local incomes. As on average each family makes just a few thousand yuan every year from farming, it can take a family many years to save up enough money for a bride price.
新蔡县是中央指定的贫困县,不过这里的彩礼钱在近几年里急剧上升,从五年前的6.6万涨到现在的10万以上,大大超过了当地的收入水平。这里的农户一年平均收入才几千块钱,相当于一家要好多年才能攒够彩礼钱。
"The girl looks nice, so I guess the price will not be low," Huang said. "Though it will be hard, we will try every means to get the money, as long as she agrees to marry."
"这个女孩长的不错,我猜价格也不会低。"黄妈妈说,"尽管非常难,但我们会千方百计去筹这笔钱,只要她同意嫁过来。"
"Every means" will entail borrowing money, yet again. A mother of two sons, Huang and her husband make a living by collecting recyclable materials in Guangzhou. To help her eldest son find a wife, they spent all their savings and borrowed money from relatives to buy an apartment in town two years ago.
"千方百计"也就意味着再一次去借钱。黄家有两个儿子,黄妈妈夫妻二人靠在广州收废品为生。为了给大儿子娶媳妇,两年前,他们花光了积蓄,还从亲戚家借钱,才在镇上买了一套房子。
Now that the apartment attracted a girl, it's time for them to worry about cash for her bride price and a decent wedding.
既然房子能吸引来准儿媳,现在是时候来准备彩礼钱,以及办一场体面的婚礼了。
Many rural parents across China share Huang's anxiety. Finding a wife for their son could cost them all their savings and drive them into debt.
中国很多农村家庭都有着和黄妈妈一样的忧愁。为儿子娶媳妇花光了全家的积蓄,使他们债务缠身。
Li Hong (pseudonym) from Xincai county is desperate to see his son get married. The construction worker spent all of his savings to build a two-storey house last year, a basic requirement for getting a wife in the county. After spending more than 200,000 yuan on the house, half of which was borrowed, he doesn't have a penny left to decorate it.
新蔡县的李红(化名)为了儿子结婚不顾一切。去年,这名建筑工人花光了所有的钱,盖起了一幢两层楼房——这还只是在这个县城娶媳妇的基本要求。不过盖房子花了20多万,其中一半是借来的,他再也拿不出一分钱来装修了。
During Spring Festival he sent his son on blind dates, but is pessimistic about the boy's chances. "Even if a girl agrees, I've no idea where to get the 100,000 yuan bride price,"Li Hong said, adding that he still hasn't repaid his debts.
今年春节他让儿子去相亲,但他的机会却不太乐观。李红说,"即使对方同意了,可我上哪儿去弄这10万元的彩礼钱呀?"他补充说,盖房子欠下的钱还没还清呢。
Xu, a 66-year-old local in Xincai county, said that "getting a daughter-in-law could leave a family broke."
新蔡县66岁的老许说,"娶个儿媳妇会让一个家庭破产。"
A farmer, Xu used to work in the county seat and knows a lot of people in the county, so sometimes he serves as a matchmaker. According to him, people living in the town don't care much about bride prices, but countryside people still attach great value to them.
老许是一个农民,但他以前在县政府里工作过,和不少人打过交道。所以有时他会当媒人。据他讲,生活在镇上的人不是非常在乎彩礼钱,但农村人却非常看重彩礼。
A prerequisite for marriage, the bride price, a tradition that can be traced back to the Western Zhou Dynasty (1046-711BC), remains a common custom in most rural areas across China.
彩礼作为婚姻的前提条件,可以追溯至中国古代周朝时期(公元前1046-711年),这个习俗至今仍存在于中国大部分农村地区。
"You cannot get a wife without spending more than 500,000 yuan," Xu told the Global Times.
老许在接受环球时报采访时说,"不花个5万元以上,根本娶不到媳妇。"
As Xu explains, a family with a son must have a house, built in the countryside or bought in the town. After that, there is the matter of the bride price and the "three gold objects" – gold rings, a gold necklace and gold earrings – and a multitude of other pricey necessities.
正如老许所说的,有儿子的家庭必须有一套房子,不管是在农村盖的还是在城里买的。接下来,就是彩礼和"三金"——金戒指、金项链和金耳环——以及其它一些昂贵的必须品。
"Most need to borrow to get a wife," Xu said, "if an ordinary family has two or more sons, without even asking you know that they must be heavily in debt."
他说,"大多数家庭都需要借钱娶媳妇。如果一户普通人家有两个或更多的儿子,无需多问你便知道他们家一定是负债累累。"
To Li Hongxiang, an expert in marriage law, it is definitely "abnormal." He added that the bride price and cost of marriage are now out of proportion with rural people's incomes."
对婚姻法专家李鸿翔来说,这肯定"不正常"。他补充说,现在的彩礼钱和结婚成本远远超出了农村居民的收入水平。
"Bride prices used to be regarded as a manifestation of mercenary marriage and China's Marriage Law clearly prohibits "using marriage to demand money." But in recent years, these have grown sky-high in many rural parts of the country, including Gansu, Henan, Shandong, Jiangxi and Anhui provinces.
"彩礼过去被视为买卖婚姻的表现,中国的婚姻法明文禁止'通过婚姻敛财'。但近年来,在中国的甘肃,河南,山东,江西和安徽等省的许多农村地区,彩礼涨成了天价。"
"You can not pay the bride price, but don't expect to take a wife. There are many others who are willing to pay it," said Yang, a Xincai county local.
新蔡县的杨说,"你不出彩礼钱,你就别想娶到媳妇。可有很多人愿意出呢。"
"If your daughter gets married without a bride price or with a price smaller than others', people might suspect something is wrong with your daughter and you will feel disgraced," Yang said.
她说,"如果你的女儿没有收彩礼或者收了很少的彩礼,人们就会猜测你的女儿是不是有某些问题,你就会感到很丢脸。"
Her daughter married two years ago and collected an average bride price, though Yang later returned the money to her son-in-law's family.
她的女儿两年前结的婚,她收了一笔平均水平的彩礼,尽管后来她又把钱返还给了女婿一家。
Comparisons between women is one cause of spiraling bride prices. When one family demands an above-average price and succeeds, word spreads and other families see it as a new standard to follow. Thus the average price is raised.
女人间的攀比,是彩礼价位不断上升的原因之一。当一个家庭要求高于平均水平的价格,且成功了,流传出去后,其它家庭就把它当成一个新的标准来追随。这样,彩礼就在不断上涨。
In some regions, professional match-makers play a role in growing prices. As Pingliang Weekly reported, in Pingliang, Gansu, some match-makers demand 5 to 10 percent of the bride price as commission. To get more money, some match-makers deliberately inflate prices.
还有一些地方,专业的红娘也在彩礼上涨中也起了一定作用。如平凉周报所报道的那样,在甘肃省平凉市,一些红娘收取彩礼钱的5%到10%作为佣金。为了多赚钱,红娘故意抬高价格。
But these standards are flexible depending on the suitor.
不过,标准也根据男方条件的不同而有差异。
"An ugly man from a poor family might be asked for 150,000 yuan. But a man who is good-looking will only need to give 66,000 yuan. The girl's family will take all factors into consideration," Xu said.
老许说,"家庭贫困且长相不好的,一般被要求15万的彩礼。而长相不错的只用给6万6就够了。女孩的家庭会综合性考虑。"
As rural young people head to the cities to work, women have found it easier to find husbands and stay in urban areas compared with men looking for brides. As a result the already-skewed gender balance in rural areas is becoming increasingly pronounced and girls are scarce. According to a report by Pingliang Weekly, in a village in Gansu the proportion of men to women has reached 4:1.
由于农村年轻人前往城市打工,与男孩相比,女孩们更容易找到对象,且能留在城市里。其结果是农村地区原有的性别失衡正变得越来越显著,女孩数量也更少了。据平凉周报的一份报告,在甘肃省某村庄,男女比例已经达到4:1。
"Men [who go to cities to work] are in an awkward position. They cannot afford to buy an apartment in the city and stay there, and back at home, it is still too expensive for them to get a wife," Xu said. He added that it is not surprising that men who are really poor often find brides who are divorced, have a child or suffer from mental illness or disability.
老许说,"男人[在城市打工的]处于尴尬的境地。他们在城市里买不起房,而回到老家,要想娶一个媳妇成本也非常高。"他补充说,非常穷的男人娶一个二婚的女人,带有一个孩子或有精神疾病或有点儿残疾都丝毫不奇怪。
But Li Hongxiang argues that it is changing mindsets, rather than shifting demographics, that are driving up bride prices.
婚姻法专家李鸿翔却称,并非人口学的变化,而是人们心态的改变,抬高了彩礼价。
"An important reason probably is, in the social context of rapid economic development, people have changed their mindset and expect to get rich quick," Li analyzes.
他分析,"一个最重要的原因可能是,在经济快速发展的社会背景下,人们的心态发生了改变,期待快速致富。"
"Stressing too much on money sometimes harms the stability of a marriage," Li said, "But meanwhile, for a man to get married, first of all he should be capable for it, physically, psychologically and financially."
李鸿翔表示,"太过强调金钱,有时反会破坏婚姻的稳定性,但与此同时,一个男人要结婚,首先他应该从身体上,心理上和经济上都能适应这个角色。"