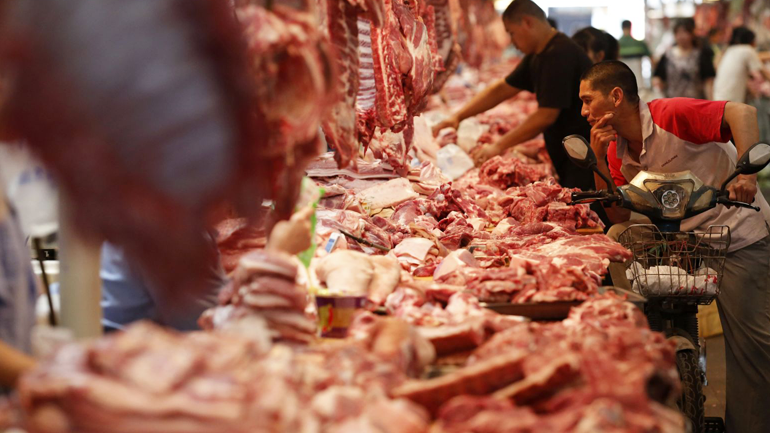 Australian beef sales to China surged six-fold in three years to a record A$917 million in 2015, data from Meat & Livestock Australia show. The volume of beef shipped to China rose more than four times over the same period while the price received for the exports has jumped 37 percent in the past 12 months.
澳大利亚肉食和牲畜公司的数据显示,澳大利亚对中国的牛肉出口额三年内激增6倍,2015年达到了创纪录的9.17亿澳元。同期,出口到中国的牛肉数量增加了4倍,而从这一出口中获得的收入过去12个月内上涨了37%。
While earnings from meat, which totaled A$15 billion last year, aren't about to eclipse those from iron ore, the export boom signals Australia is successfully transitioning away from mining. Just as a sharp increase in demand from China for iron ore pushed up prices for the metal to a peak in 2011, so now is the Asian behemoth's shift toward consumption pushing up prices for beef.
尽管来自肉类出口的收入——去年共计150亿澳元——还不会超过铁矿石出口的创收水平,但这一出口繁荣表明澳大利亚正成功地实现从采矿业的转型。正如中国对铁矿石的需求激增使这种产品的价格在2011年达到峰值一样,在这个亚洲大国朝着消费转型之际,牛肉价格被大幅拉升。
"As countries get richer, their diets change and they prefer higher quality food products, and I think that's a big part of the beef story," said Paul Bloxham, chief Australia economist at HSBC Holdings Plc. "We think it's still got further scope to pick up. There's still a lot more people to enter the middle-class in China and preferences are shifting quite quickly."
汇丰银行首席澳大利亚经济学家保罗·布洛克瑟姆说:"随着一些国家越来越富裕,人们的饮食结构也发生了变化,开始青睐更高品质的食品,我认为这是牛肉出口激增的很大一部分原因。我们认为还有进一步上涨的空间。中国还有很多人正在步入中产阶级,而他们的偏好正在迅速发生变化。"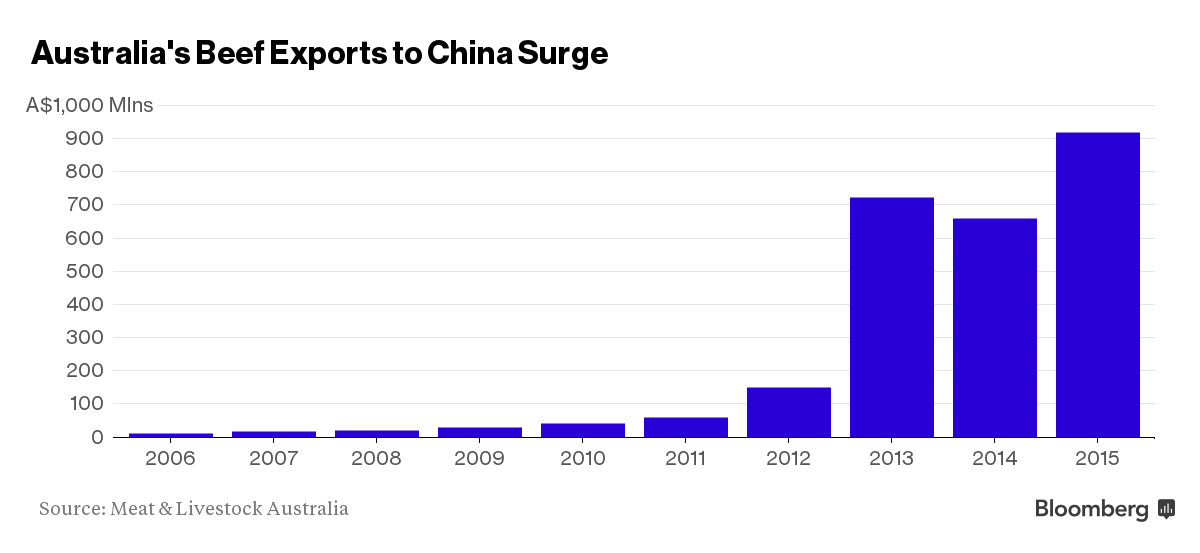 Farmers like Burton-Taylor at his Kenny's Creek property are capitalizing on Australia's reputation for high-quality produce at a time of dwindling trust among Chinese citizens in the safety of their own food.
在中国人对本国食品安全的信任程度降低之际,伯顿-泰勒这样的农场主正充分利用澳大利亚产品质量上乘的声誉。
"The long-term prospects for exports are strong, but we are naturally mindful that beef producers in Brazil have started to compete more aggressively," said Burton-Taylor, who sells meat from his property outside Canberra to restaurants in Beijing and Shanghai. Competing with Brazil to sell commodities to China is nothing new for Australia — the two nations are key suppliers of iron ore as well.
为北京和上海的餐馆提供肉类产品的伯顿-泰勒说:"出口的长期前景看好,但我们意识到巴西的生产商也开始更积极地参与竞争。"对于澳大利亚来说,与巴西竞争向中国出口商品并不是新鲜事,因为这两个国家也是铁矿石的出口国。
The Chinese are also changing their diet. For centuries China's favored meat has been pork, partly because backyard pigs not only supplied meat, but were good at turning waste into manure.
中国人的饮食习惯正在发生改变。几个世纪以来,中国青睐的肉类都是猪肉,这在某种程度上是因为家养的猪不仅能够提供猪肉,而且还可以把废料变成肥料。
"The U.S. continues to yield a great return for beef producers with the bulk of the product being lean grinding meat, which is often used in hamburgers," said Michael Finucan, general manager international markets at Meat & Livestock Australia. "We are also seeing a substantial pick up in the sale of high quality grass fed beef, which is lean and appeals to health conscious consumers."
澳大利亚肉食和牲畜公司的国际市场总经理迈克尔·菲纽肯说:"美国继续为牛肉生产商带来巨大回报,他们需要的大部分产品都是通常用在汉堡中的瘦牛肉馅。我们觉得高品质的散养牛的牛肉销售还有很大上涨空间,这种脂肪少的牛肉颇受注重健康的消费者的青睐。"
Burton-Taylor, who was raised on a farm, studied accounting and worked in business before returning to the land, said he visited China more than a dozen times to secure buyers.
在农场长大的伯顿-泰勒学过会计,在回到农场前曾经经商。他说自己每年都去中国十几趟以寻找买家。
The potential for further sales is enormous. China will eat an extra 2.2 million tons of beef a year by 2025, according to Rabobank — enough to make 19 billion quarter-pounders. Some producers in Australia are even loading cattle on Boeing Co. 747 cargo planes and flying them to China in order to meet regulations that require imported live animals to be slaughtered close to their point of entry.
销售进一步提高的潜力是巨大的。据荷兰合作银行说,到2025年中国每年的牛肉消费还将增加220万吨。为了满足中国提出的进口活畜要在进口地点附近宰杀的要求,澳大利亚的一些生产商甚至把牛装上波音747货机运往中国。
"The Chinese economy is transitioning just as ours is," Australian Treasurer Scott Morrison said in Parliament Tuesday when commenting on surging beef exports to China. "That means so many more Chinese moving into the middle classes and creating new opportunities for exports of services and other goods and products, which will continue to drive growth and jobs."
澳大利亚国库部长斯科特·莫里森早先在议会提到对中国的牛肉出口激增时说:"中国的经济也像我们一样正在经历转型。这意味着有更多的中国人成为中产阶级,这为服务和其他商品的出口创造了新的机会,并将继续推动经济增长和就业机会增加。"