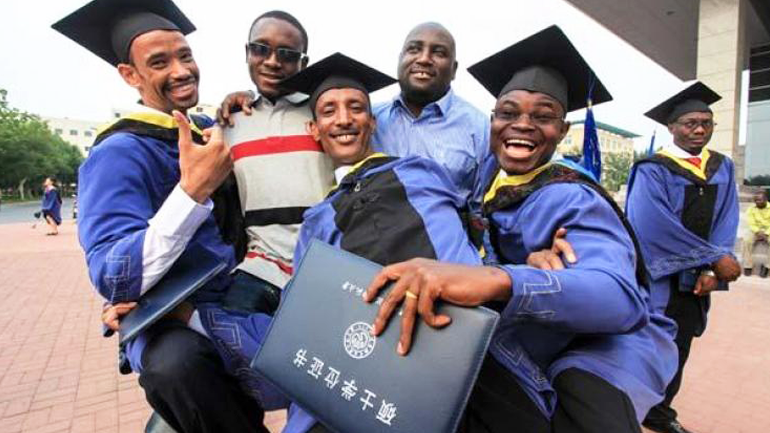 Cameroonian student Danielle Carole Tangmeu Kenmoe is fluent in Mandarin — something that looks really good on a resume.
丹尼尔·卡罗尔·汤姆·肯麦来自喀麦隆,说着一口流利的普通话,这绝对是简历中的一大亮点。
A student at Zheijiang Normal University, Kenmoe says a degree from China gives an African a competitive edge when it comes to jobs. "Translators are needed to help different actors both in China and African countries make their business deals in a smooth and professional way," Kenmoe said in an AFKInsider interview.
肯麦是浙江师范大学的学生,他说,在非洲找工作时,中国学历很有竞争优势。肯麦在接受"了解非洲"网站的采访时,说:"翻译在中非贸易往来中扮演了不同的角色,两国间的业务因为有翻译变得更流畅更专业。"
China's pragmatic foreign policy towards Africa includes an important soft power element: encouraging young Africans to study at Chinese universities.
非洲青年希望来中国留学不仅由于中国对非洲务实的外交政策,更重要的一点是中国的软实力。
This is done via a growing number of government scholarships, which are available to foster studies in Mandarin-taught programs, including the opportunity to master the language in a relatively short period. At the same time, however, Chinese universities have been extending their portfolios of degree programs delivered in English.
中国政府扩大奖学金数量鼓励非洲青年来华学习,促进他们参加中文授课的学习,使他们有机会在短期内提高中文水平。同时,中国大学也在增加英文授课的学位数量。
Since the launch of the triennial Forum on China-Africa Cooperation in 2000, there has been a clear government effort to attract more African students to China.
三年一次的中非合作论坛自2000年召开以来,中国政府不遗余力吸引更多的非洲学子来华学习。
China increased government scholarships from 2,000 awards in 2006 to 4,000 in 2009 and 6,000 in 2015, according to Kenneth King, professor emeritus of the University of Edinburgh, Scotland. China also upped its commitment for short-term training of African professionals from 10,000 to 30,000 between 2006 and 2015, according to King's 2013 book, "China's Aid & Soft Power in Africa."
爱丁堡大学荣誉教授肯尼斯·金的研究显示,从2006年到2009年,政府奖学金名额从2000名增长到4000名,2015年,奖学金名额达到6000名。金教授在2013年出版的《非洲人眼中的中国援助与软实力》一书中提到,中国也增加了对非洲各类专业人员的短期培训投入,培训人数从2006年的1万人上升到2015年的3万人。
China has been giving government scholarships to Africans since the 1950s. The first students from Egypt were granted government scholarships in 1956. But self-supported young Africans who study at Chinese universities outnumber the scholarship- or award-holders.
上世纪50年代开始,中国政府就向非洲学生提供奖学金。1956年,埃及学生获得了第一批政府奖学金。但是自费来华留学的非洲学生数量远远超过了通过奖学金或奖金留学的学生数。
"China is evidently an attractive destination for international study for Africans, quite apart from its scholarship provision," according to King.
金教授说:"除了提供奖学金,中国已成为非洲学生留学的热门国家"。
Dozens of Africans study at Hangzhou Normal University located in one of the historic regions of Mainland China.
坐落在中国大陆历史古城的杭州师范大学有很多非洲学生。
Chinese degrees are well recognized across the African continent, medical graduate students from Somaliland said in a focus group meeting in early September.
在九月初的一场小组聚会上,来自索马里的医学院毕业生说,在非洲地区,中国学历认可度很高。
"China offers a good ground for getting the knowledge, gaining the necessary experience to find more opportunities after graduation," said Abditafah M. Nuh in an AFKInsider interview. "I want to return home and contribute to the development of my country. I am particularly interested in working in the social relief field for an international NGO."
阿波蒂塔夫·梅·诺亚在接受了解"非洲网站"采访时说: "中国提供了一个很好的平台,我们可以学习知识,获得必要的经验,在毕业后寻求更多的机会。我会回国,为祖国发展做贡献。我对国际非政府组织的社会救助工作很感兴趣。"
Most of the almost 130 African students at the Shanghai Institute of Technology study civil engineering or architecture. In their first year they have to master Chinese and pass the Chinese Proficiency Test level IV, so that they can converse in Chinese on a wide range of topics and communicate fluently with native Chinese speakers.
在上海理工大学就读的非洲学生接近130名,多数学生选择了土木工程或建筑学专业。第一学年,他们要掌握汉语,通过汉语水平四级考试,这样就可以用中文谈论各种话题,与中国人流利对话。
Some students from Cameroon, Madagascar, Niger and the Comoros told AFKInsider they were encouraged to study in China by parents or family members who had studied or worked there, or who maintain business ties with Chinese. But racial issues remain a daily reality in interactions between young Africans and the local Chinese populations. This includes skin color.
来自喀麦隆、马达加斯加、尼日尔、科摩罗的学生在接受 "了解非洲"网站采访时,说,父母或在中国工作、学习或与中国有生意往来的亲戚鼓励他们学习中文。非洲青年和中国人交流时,遇到的诸如肤色等种族问题仍然是每天要面对的现实问题。
"Although interaction is possible, in particular if you speak Mandarin, we have experienced a number of challenges because we are black," Nuh said. "Taxis do not stop if we are alone, but rather when we are with a Chinese friend who is waving to the driver. The less well-educated think that our skin is black because we do not take a bath. They touch it so that they can check if they get painted or not.
诺亚说:"与中国人交流是没有问题的,特别是如果你会说中文,但是我们的肤色,还是让我们遇到了很多问题。如果我们单独打车,出租车司机不会停车,但是和中国朋友在一起时情况就不同了,他一挥手,出租车就停下了。那些文化程度不高的人觉得我们皮肤黑,是因为我们不洗澡。他们会摸摸我们,看看是不是画上去的。"
"They are ignorant about us, our cultures, and I think education is the key for them, too, to learn more about Africa and the Africans."
"他们不了解我们和我们的文化,我认为教育对他们很重要,那样他们可以更多地了解非洲和非洲人。"
African students studying at a Chinese university not only learn proper Mandarin, but also get closer to Chinese hearts and minds. This is a significant opportunity for all the parties involved as they can function as bridges for future engagements in trade, business deals and investment.
在华学习的非洲大学生不仅可以学习普通话,还可以进一步了解中国人的内心和思维方式。对大家来说都非常重要,他们为未来两国在贸易,商业和投资方面的发展起到了桥梁作用。
Please visit Chinlingo for Chinese learning.