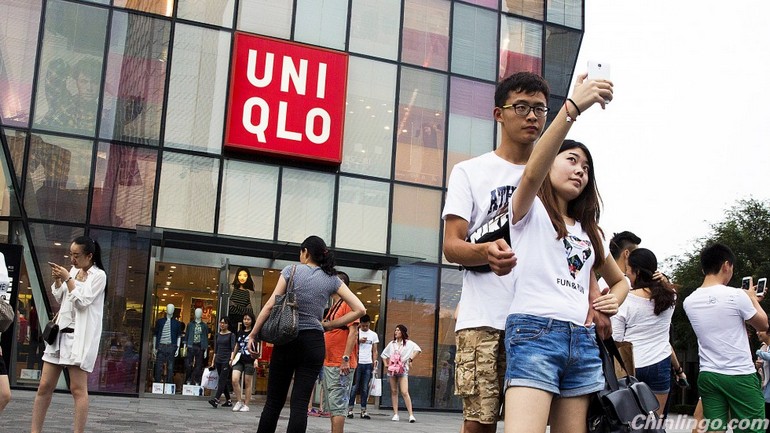 China wants its citizens to behave.From water parks to subways, officials are cracking down on what they fear could be a new wave of immoral sex after a video of a couple making love in a Beijing Uniqlo store fitting room became the country's hottest topic.
中国希望其公民行为得当。北京优衣库视频成为热点话题之后,中国政府害怕该事件会引发一轮不道德性行为热潮,因此加强了对从水上公园到地铁等公共场所的管制。
Now, say the words "Uniqlo" or "fitting room" and you'll get knowing smiles from just about anyone in China who's been on the Internet.But the government has had enough. Authorities have spoken to executives of Chinese Internet companies and chastised their social networks' role in spreading the indecent material, which opposed "core socialist values."
目前,提到"优衣库"以及"试衣间"的字眼,中国所有上网的人们都会露出会意的笑容。但是政府已经忍够了。有关当局已经与中国网络公司领导进行了谈话,因其扩散违背"核心价值观"的不雅资料,对其进行谴责。
That hasn't stopped streams of visitors taking selfies outside Uniqlo's flagship store in Sanlitun. Hundreds of miles away from Beijing, a water park in the megacity of Chongqing hung up signs banning sex in the pool.
但这并不能够阻止众多游客在三里屯优衣库旗舰店前自拍。在数百里之外的大城市重庆,一个水上公园在游泳池中竖起了禁止性交的标志。
Li Yinhe, a renowned Chinese sociologist, told CNN a feverish interest in sex scandals could represent a "rebound" after years of repression.The sociologist suggested part of the appeal has to do with the government's tough stance on porn, which has been banned since the Communist Party took over in 1949.
中国著名社会学家李银河接受CNN采访时表示,对性丑闻狂热的兴趣可能过代表着数年性压抑之后的"解放"。李银河表示,人们对此感兴趣的部分原因与政府禁止色情传播有关。自1949年共产党当权以来,就禁止色情传播。
Tradition and laws making sex a taboo in China date back thousands of years, to the 10th-century Song Dynasty. But Li says sexual repression reached its peak during1960s and 1970s. At the time, "having sex was only meant for reproduction。" she said.
性,在中国是个禁忌,这源于中国的传统和法律,可追溯至数千年之前10世纪的宋朝。李银河表示,性压抑在20世纪六七十年代时,达到了顶峰。当时, "性行为只是为了繁衍后代。"
In the 1980s, said Li, it was not uncommon for people to be sentenced to death for having sex parties or selling pornographic products and publications.It wasn't until 1997 when sexual repression was lifted in China. Since then, China has experienced a sexual liberation. More than 70% of Chinese people have premarital sex, said Li, citing a recent survey.
20世纪八十年代时,因举办色情派对,出售黄色刊物而被判处死刑,非常寻常。直到1997年中国才取消性压抑。自此,中国经历了性解放。李银河表示,最新调查发现,70%的中国人都有婚前性行为。
Even today, many traditional attitudes toward sex remain — sexist double standards, say some. As Li put it: "Essentially it's a patriarchal society where men can enjoy sex while women shouldn't. The double standard has been existed for thousands of years."
即使是在今天,仍然有很多关于性的传统态度,如性别歧视双重标准。正如李银河所说:"这是父权社会,男性可以享受性爱,而女性不能。这个标准已经存在了数千年。"