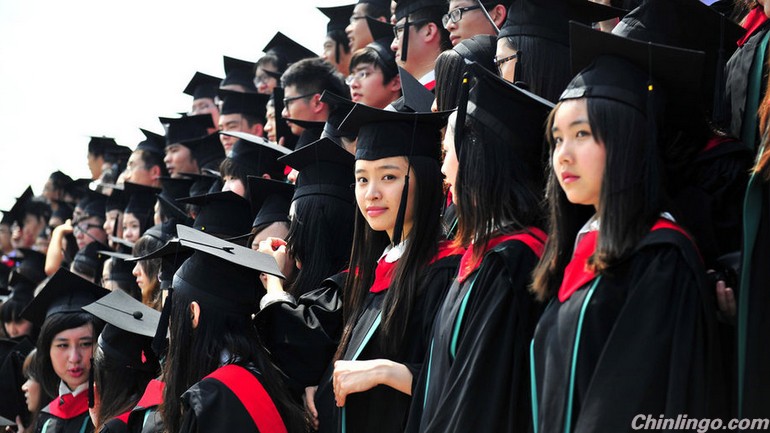 China is either at or near the so-called Lewis turning point, where it is no longer hugely productive to shift workers from agriculture to manufacturing. Now, growth will need to come increasingly from so-called total factor productivity, which itself is driven by technology and innovation.

中国可能已经到了或者正在接近所谓的刘易斯拐点,即让农村劳动力成为产业工人已不再能产生较大生产力。现在,中国社科院副院长蔡方说,增长将越来越多地要从全要素生产率中产生,而全要素生产率本身是要靠技术和创新来驱动的。
China has been busy preparing for the change. During the past two decades, Chinese involvement in international science and engineering has drastically increased, new research from economists Richard Freeman and Wei Huang of Harvard University shows. In 1970, after the Cultural Revolution, the country had fewer than 50,000 undergraduate students and almost no graduate students, but this changed quickly in the 1990s and 2000s.
中国正在为这种变化做着积极的准备。哈佛大学的经济学家理查德·弗里曼和黄伟(音)进行的最新研究显示,过去二十年来,中国在国际科学和工程领域的参与度大大提高了。1970年,中国的大学本科生不到5万人,研究生更是几乎没有,不过到上世纪90年代之后这种情况很快就改变了。
From 1970 to 2010, the number of students enrolled in higher education globally rose by 500 percent, to 178 million from 29 million. Nowhere was this growth faster than in China, and the country more than doubled its number of colleges. Of global total enrollment, China's share expanded from nothing to 17 percent. For comparison, India's share rose from 9 percent to 12 percent during the same period.
从1970年到2010年,接受高等教育的学生数量增长了500%,从2900万升至1.78亿。这种增长在其它地方是没有出现过的。中国的大学数量也翻了一番。在全球的入学率中,中国的份额从几乎为零增长到了17%。相比之下,印度同期的份额从9%增长到了12%。
Furthermore, the Chinese have invested in research links globally, and especially with the U.S. In 1993, China endorsed education abroad; more than a decade later, it began to subsidize large numbers of outbound students. As recently as 2005, roughly 60,000 mainland Chinese came to the U.S. for higher ed; by 2012, there were almost 240,000. Mainland Chinese represent more than a quarter of international students in the U.S.
此外,中国也开始在全球投资研究链,尤其是在美国。1993年,中国认可了国外教育;十年之后,中国开始大规模资助出国留学生。2005年,中国大陆有大约6万人到美国接受高等教育;到2012年,这个数目已经达到了24万。中国大陆的学生占到了在美留学生数量的四分之一还多。
These relationships also extend to research. China has become the top international collaborator for U.S. researchers. And by 2012, almost half of Chinese collaborations abroad were with Americans.
这种联系也扩展到了研究领域。中国已经成了美国研究人员的头号国际合作伙伴。到2012年,中国国际合作的近一半都是与美国人展开的。
Freeman and Huang conclude that China's new links to global research, and in particular its key relationship with the U.S., have "allowed China to reach the scientific and technological frontier much faster than if it had done a more parochial path." And that in turn is crucial to continued strong growth in China. Despite the rising tension between the U.S. and China over the South China Sea islands, academic research provides one dimension along which the two countries remain deeply co-dependent.
弗里曼和黄伟(音)的研究认为,中国与国际研究的新联系,尤其是与美国的重要关系已经"使中国抵达科学技术前沿的速度比走狭隘路线快得多"。而这对中国保持强劲的经济增长也是至关重要的。尽管美国和中国在南中国海岛屿问题上存在紧张关系,但学术研究却是一个两国高度相互依赖的领域。