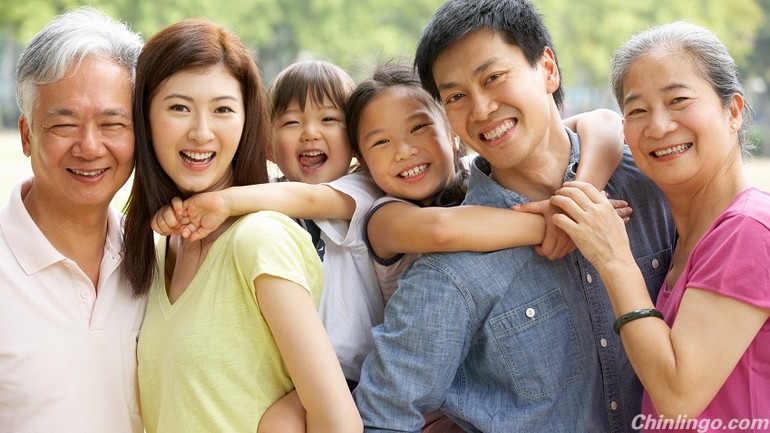 Small-sized families of two to three members have become the main family size with nuclear families making up of more than 60 percent with the percentage of single-member or seniors-only families increasing, according to a report released by China's top health authority on Wednesday.
中国权威医疗卫生机构周三发布报告称,随着单人家庭和空巢家庭数量的增加,只有两到三名成员的小型家庭已经成为我国家庭类型的主体,核心家庭占60%。
The report on Chinese Family Development 2015 was released by the National Health and Family Planning Commission, who conducted a survey of 32,494 households and 184,439 people in 1,624 villages, 321 counties and 31 provinces, autonomous regions and municipalities.
国家卫生和计划生育委员会发布的《中国家庭发展报告2015》报告,这次调查共涉及全国31个省(区、市)、321个县(市、区)、1624个村(居)的32494个家庭,登记人口184439人。
The report also said that most seniors take care of themselves or rely on their family members, and they need more social services.
报告还称,目前大多数老年人日常生活主要还是依靠自己和家庭成员照料,他们需要更多的社会服务。
The report shows that Chinese families averaged 3.35 people, with rural households having 3.56 people on average and urban families 3.07 people.
报告显示,中国家庭每户平均人数为3.35人,农村家庭平均每户3.56人,而城市家庭户平均每户3.07人。
Small-sized families of 2 to 3 members have become the most common, ranking on top and accounting for 21.9 percent and 31.7 percent respectively.
有两到三名成员的小型家庭最多,排名榜首,分别占21.9%和31.7%。
Four-member and five-member families are next with 21 percent and 11.5 percent, and single-member families rank fifth, standing at 6.4 percent.
其次是四到五名成员的家庭接,分别占21%和11.5%,单人家庭排名第五,占6.4%。
Nuclear families are now the most common kind of family, standing at 64.3 percent of all families.
核心家庭是当前最常见的,占在所有家庭的64.3%。
In rural areas, left-behind children make up 35.1 percent of all children living there, left-behind wives represent 6.1 percent of all wives, and left-behind senior parents account for 23.3 percent of all seniors.
在农村地区,农村留守儿童占总所有儿童的35.1%,留守妇女占所有妇女的6.1%,留守老人占所有老人的23.3%。
Half of the seniors in urban and rural areas do not stay with their children, among whom 10 percent live by themselves and 41.9 percent live with their spouse.
城市和农村地区超过半数的老年人没有同子女生活在一起,其中独居的老人占10%,有41.9%的老人和配偶生活在一起。
Most seniors take care of themselves or rely on their family members.
大多数老年人日常生活目前主要还是依靠自己和家庭成员照料。
There is growing demand for society to provide more healthcare services to the elderly.
老年人对社会提供的医疗需求越来越多。
For all seniors, the external financial support mainly comes from their children.
老人们的外部经济来源主要从子女处获得。
Rural seniors rely more heavily on their children financially than their urban counterparts.
相比城市老人,农村地区的老年人在经济上则更多地依赖于他们的子女。
The report also reveals that there is a huge gap between family incomes, as the income of the top 20 percent families is 19 times the income of the bottom 20 percent families.
报告指出,家庭收入差距明显,收入最多的20%的家庭和收入最少的20%的家庭相差19倍左右。
And the families who adopt the family planning policy develop far better than those who fail to comply in terms of finance, healthcare and communication between parents and children.
计划生育家庭的发展状况明显好于非计划生育家庭,比如在经济发展、健康管理、代际互动等方面都明显有优势。