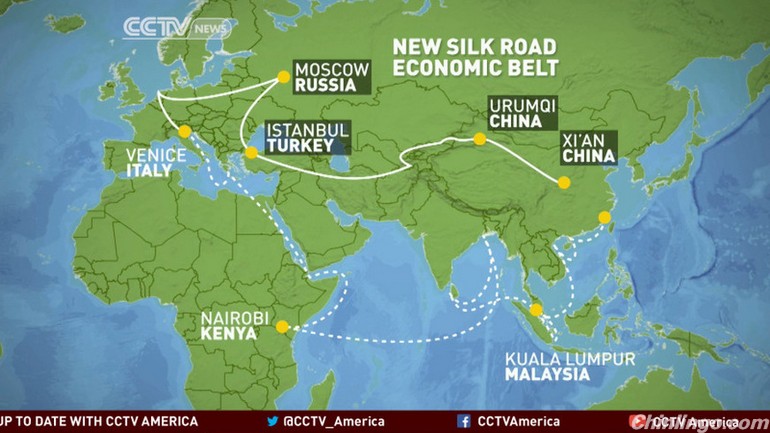 On a visit to Kazakhstan in 2013, Xi Jinping reminded his hosts of their
shared commercial ties along the Silk Road, stretching back millennia.
The Chinese president went on to propose the establishment of a Silk
Road Economic Belt to bring new prosperity to Asia. The speech barely
registered in the international media but less than two years later, the
so-called One Belt, One Road plan — incorporating a Maritime Silk Road —
has become the centrepiece of the president's foreign policy and
international economic strategy. Important commercial consequences for
the region and global companies will go hand-in-hand with unpredictable
geopolitical implications in parts of the world where the US, Japan,
India and Russia all have material and competing interests.
2013年习近平出访哈萨克斯坦时,提醒东道主两国沿"丝绸之路"(Silk
Road)拥有共同的商业纽带,其历史可以追溯到两千多年以前。这位中国国家主席接着提议建设"丝绸之路经济带"(Silk Road Economic
Belt),为亚洲带来新的繁荣。习近平此次讲话几乎没引起国际媒体注意,但不到两年后,这个所谓的"一带一路"(One Belt, One
Road)计划——结合海上丝绸之路——成了习近平外交政策和国际经济战略的核心。"一带一路"计划将对该地区和全球企业产生重大商业影响,同时将给这片
美国、日本、印度和俄罗斯几国都存在重大而彼此冲突的利益的地区,带来不可预知的地缘政治影响。
Beijing's need of a new approach to doing business at home and abroad
has been apparent for some time. Many of China's past bilateral
investment deals in Africa and Asia based around access to commodity
resources were uncommercial, poorly implemented and, in some cases,
unpopular locally. The property and investment boom at home that they
served has now ended, leaving China with significant overcapacity in
industry and construction, deflation and rising debt management
problems.
一段时间以来,中国政府明显需要在国内外找到一条新的商业道路。过去中国在非洲和亚洲签订的基于获得大宗商品资源的双边投资协议,许多是非商业的,执行欠佳,而且有时在当地不受欢迎。它们所服务的国内房地产和投资热潮现已结束,给中国留下了种种问题,如工业和建筑业产能严重过剩、通货紧缩以及不断加剧的债务管理问题。
Moreover, the country has tired of accumulating endless volumes of US
Treasury and other government bonds, and now prefers more direct
investment overseas. Beijing has also long expressed opposition to the
dominance of the US and the dollar in the global financial institutions,
most notably the International Monetary Fund and World Bank.
此外,中国已厌倦了积累无穷尽的美国国债和其他政府债券,现在偏好加大海外直接投资。北京方面也早就表示反对美国及美元在全球金融机构的霸主地位,最引人瞩目的就是国际货币基金组织(IMF)以及世界银行(World Bank)。
In the past year, therefore, Beijing has undertaken three major
initiatives. With other Brics emerging economies it co-founded the
largely symbolic New Development Bank, a sort of IMF clone institution.
It founded, and will provide half the capital for, the Asian
Infrastructure Investment Bank (AIIB), which now has 57 members. If
financing, logistical and governance issues are addressed successfully,
the AIIB could be lending $20bn a year by 2020, not far off the $30bn
annual loan commitments of the World Bank today.
因此在过去一年,中国政府采取了三大举措。中国与其他金砖国家新兴经济体共同创立了新开发银行(New Development
Bank),它就像IMF的克隆机构,具有很浓的象征意味。中国还创建了亚洲基础设施投资银行(Asian Infrastructure
Investment
Bank,简称亚投行),并将提供半数资金,亚投行目前已拥有57个意向创始成员国。如果资金、组织以及治理问题能够成功解决,亚投行到2020年可以每年提供200亿美元贷款,与世界银行现在承诺的每年300亿美元贷款相差不太远。
Yet this is all a complementary sideshow to One Belt, One Road. The
popular claim is that this modern-day Silk Road will bind together 65
countries and 4.4bn people from Xi'an in western China (the old imperial
capital and the start of the original road), across central Asia to the
Middle East, Russia and Europe. The maritime road is designed to link
the South China Sea to the Indian Ocean, east Africa, the Red Sea and
the Mediterranean. Inevitably, this will require China to project its
growing naval power further. Financing will come from China's
development banks, the largest of which recently received more than
$60bn in fresh capital to fund new operations. Beijing will doubtless
see fit to allocate more of its near $4tn foreign exchange reserve pool
to this end.
然而,与"一带一路"这部重头戏相比,这些都是助兴表演。一个普遍的说法是,从西安(中国古都、古丝绸之路的起点)、经中亚、到中东、俄罗斯和欧洲,这条
现代丝绸之路将连接起65个国家、44亿人口。海上丝绸之路的目的是将南中国海与印度洋、东非、红海以及地中海连结起来。不可避免地,这将要求中国将其日益增长的海军力量投射到更远的地方。资金将来自中国的几家开发银行,其中最大的两家最近收到了总共逾600亿美元的新资金,用于支持新业务。中国有近4万
亿美元的外汇储备,中国政府无疑会认为,将外汇储备池中的资金多分出一些用于这一目的是合适的。
Will One Belt, One Road succeed in transforming the global system as
some claim? Protagonists [Proponents?]say that the beneficiaries of
investment and suppliers stand to gain from new infrastructure, energy
pipelines, fibre optic and communications systems, and lower trade
barriers. It is also argued that it suits China to a tee. It could
offset the effects of a falling investment rate and rising overcapacity
at home, offer commercial sweeteners to potential anti-corruption
campaign targets to co-operate with reforms, improve internal economic
integration between the country's advanced coastal and the more backward
western provinces, and, importantly, spur greater financial integration
including wider use of the renminbi.
"一带一路"能否像一些人宣称的那样,成功改变全球体系?这一说法的倡导者说,投资的受益者和供应商必将受益于新的基础设施、能源管道、光纤和通信系统、
以及贸易壁垒的降低。人们还认为,这个计划严丝合缝地契合中国的需要。它可抵消中国国内投资率下降、产能过剩日益严重的影响,为潜在的反腐运动对象提供商
业上的甜头、促使他们配合改革,促进发达沿海地区与相对落后的西部省份经济一体化,还有重要的一点是,促进金融一体化,包括推进人民币国际化。
Yet, this is to put the cart before the horse. One Belt, One Road and
complementary agencies such as the AIIB could be transformative but not
in the abstract, and only if they reflect Beijing's pursuit of other
long-term economic and political goals. These include catapulting
China's income per head to US levels, the embrace of open governance,
the willingness of other nations to buy into China's foreign policy, and
the development of the renminbi as a reserve currency rather than just a
more widely used vehicle for transactions. It will be necessary to see
the commitment to such ambitions.
不过,这样说是本末倒置。"一带一路"以及亚投行等配套机构或许能够改变全球体系,但这并非抽象意义上的,并且前提是它们反映了中国政府在其他长期经济和
政治目标上的追求。这些长期目标包括,让中国的人均收入达到美国的水平,接受开放治理,让其他国家对中国的外交政策买账,让人民币成为储备货币、而不只是
作为交易手段被更广泛地使用。中国必须让外界看到,它有实现这些远大目标的决心。
If China's new financial diplomacy aims to extend and deepen its global
footprint without fundamental changes in political and economic
philosophy, the result may be heightened global risks across Asia.
Ultimately, its westward pivot would then simply be a commercial but
truculent riposte to America's pivot to Asia, reminding us, in the words
of US historian Edward Luttwak, that geoeconomics is "the logic of war
in the grammar of commerce".
如果中国新金融外交的目的是,在不从根本上改变政治和经济逻辑的前提下扩大和加深其全球足迹,那么结果可能是整个亚洲面临更大全球风险。最终,这种战略重
心西移将不过是对美国重返亚洲的回应,这种回应虽是商业上的,但也是咄咄逼人的,它提醒我们,就像美国历史学家爱德华?勒特韦克(Edward
Luttwak)所说,地缘经济是"遵循商业语法的战争逻辑"。