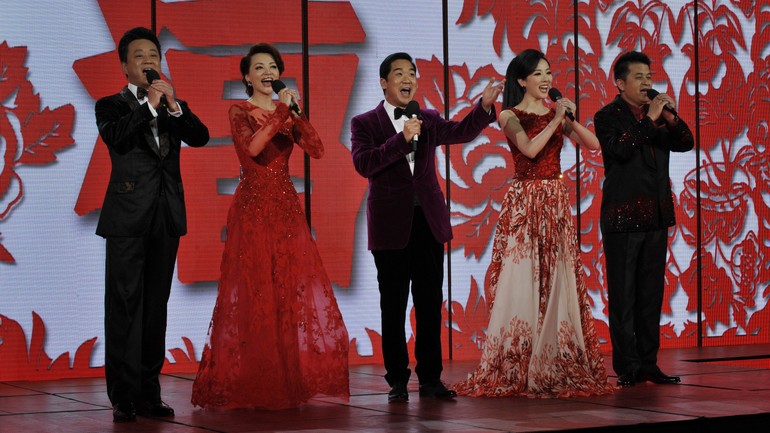 Along with eating dumplings and setting off fireworks, watching the annual CCTV Spring Festival Gala has been a Lunar New Year ritual for many Chinese families over the past three decades.
在过去的三十年里,吃饺子、放烟花、观看一年一度的央视春节联欢晚会已经成为许多中国家庭的过年习俗。
The nearly five-hour long show
draws between 400 million to 700 million viewers every year, according
to statistics from CCTV. The 2012 gala, with an average reach of 499
million viewers, set a new Guinness World Record for the "Most Watched
National Network TV Broadcast".
据央视统计,时长近五个小时的春晚每年会吸引4至7亿的观众。2012年春晚的观众人数达到了4.99亿,成为"世界上观看人数最多的全国电视节目",从而创下了一项新的吉尼斯世界纪录。
Despite being a massively popular show, the CCTV gala is not merely entertainment.
尽管央视春晚人气很高,但是它并不仅仅是一档娱乐节目。
"It's part of modern culture for
Chinese people," Huang Yihe, director of the first CCTV gala in 1983,
told China Daily. "[People] have been working for a whole year and need
an outlet to express their emotions."
"对于中国人来说,它是现代文化的一部分,"1983年第一届央视春晚的导演黄一鹤在接受《中国日报》采访时表示。"(人们)辛苦工作一整年,需要一个出口来释放自己的情感。"
The first CCTV gala was broadcast live at a time when it was considered a luxury to have a TV in China. As TV sets became affordable for more families, the gala turned into an indispensable part of the Lunar New Year.
第一届春晚直播时,电视机在国内还是件奢侈品。随着电视机走进寻常百姓家,春晚也变成了春节不可或缺的一部分。
Times, of course, have changed.
"The gala is much more complicated than before," 78-year-old Huang said.
"The gala was born at a special time in our nation's history. Like our
country, it developed fast."
当然,时代变了。"春晚比以往变得复杂多了。"78岁的黄一鹤说。"春晚诞生于我国历史上一个特殊的时期。同我们的祖国一样,它也在快速发展。"
Changes can be both good and bad.
The gala's popularity has gradually declined in recent years, with the
number of comments criticizing the show increasing. Many critics are
from the younger generations, lamenting the show's lack of creativity
and fun.
变化是把双刃剑,有好有坏。近年来,春晚人气逐渐下滑,批评声音增多。很多批评声来自年轻人,他们抱怨这个节目缺乏新意、毫无乐趣。
"Organizers need to know the
audience and understand what they like," said Wu Xiao, 22, a senior in
English at Qingdao University.
"主办方需要了解观众,投其所好。"来自青岛大学英语专业的大四学生、22岁的吴晓(音译)说。
Like many from the post-1990
generation, Wu is never short of entertainment choices on Lunar New
Year's Eve. Surfing the Internet and playing games on gadgets ― the CCTV
gala is not a priority anymore.
同很多90后一样,吴晓在除夕夜从不缺少娱乐方式。上网、玩游戏——春晚不再是首选。
In order to attract viewers from a younger demographic,
gala organizers have been putting much effort into finding out what
they want. Months ago, director Ha Wen took her team to various cities
to talk with young people and get feedback.
为了吸引年轻受众收看春晚,春晚节目组花大力气来了解他们的喜好。几个月前,导演哈文带领团队前往不同城市与年轻人交流,寻求反馈。
"We listened to them and hopefully
they will get what they want from the show," she said in an interview
with Beijing Evening News last month.
"我们听取了他们的建议,也希春晚能够满足他们的需求。"上个月她在接受《北京晚报》采访时表示。
For the past few years, the gala
has featured more pop stars, especially from Hong Kong and Taiwan. This
year, international star Celine Dion is scheduled to make an appearance.
过去几年里,明星阵容成为春晚的一大亮点,特别是一些港台明星。今年更是邀来国际巨星席琳•迪翁助阵。
"I certainly appreciate their effort. Balancing viewers' interests and the show's variety is no easy task," Wu said.
"我很感谢节目组做出的努力。平衡观众的口味与节目的多样性,这并非易事。"吴晓说。
But one aspect of the gala has not changed, and that is the undeniable meaning it has for Chinese people.
但是春晚有一点没有变,就是对于中国人而言,它蕴含了不可否认的意义。
Despite the negativity, most
Chinese people always watch CCTV on Lunar New Year's Eve. Zhu Jun, who
hosted the gala for 15 years, said in his book My Midnight Moment: "It
is more like a habit for most Chinese people on that special night."
尽管负面声音不断,但是大多数中国人在除夕夜还是会收看央视春晚。主持了15届央视春晚的朱军在《我的零点时刻》一书中写道:"在这个特殊的夜晚,对于大多数中国人而言,看春晚更像是一种习惯。"