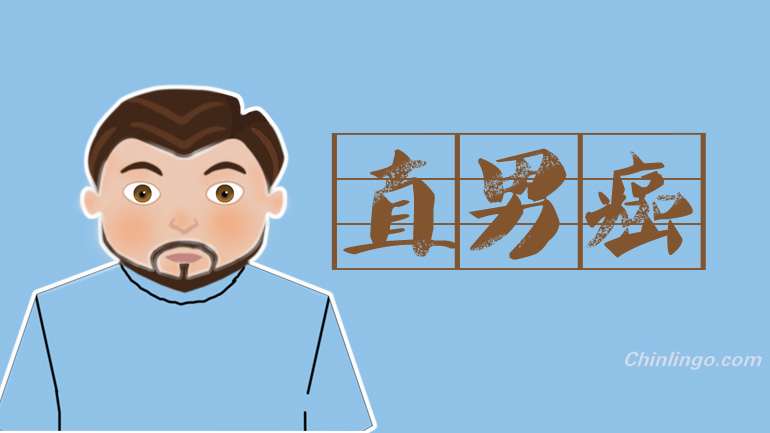 This post will give everyone a brief introduction to what "straight man's cancer (直男癌, zhí nán ái)" actually means.
本文将给大家介绍一下,"直男癌"究竟是什么意思。
The first thing that needs to be said is that "straight man's cancer" isn't a real cancer, but is a general term given to a certain kind of man. "直男 (zhí nán)" is directly translated from English, and means "heterosexual man", or a man who is sexually attracted to women. The word "直男" was originally neutral, but when "癌" is added it has the feeling of being seriously sick. The most important symptoms of "Straight man's cancer" are listed in the points below:
首先要说明的是,"直男癌"不是一种癌症,而是对某一类男生的统称。"直男"这个词是从英语里直接翻译过来的,意思是异性恋男人,也就是性取向喜欢女性的男性。"直男"这个词本来是中性的,但加上"癌"这个字,就有一种病得不轻的感觉。"直男癌"的主要症状有以下几点:
1. Taste in clothing is lacking, appreciation of beauty is lower than average, but are completely unaware of this themselves.
穿衣的品味很差,审美低于平均水平,自己却完全没有意识到。
2. Limit women's freedom, for example by not letting their wife go to work, believing that they should be at home doing housework and taking care of children.
限制女性的自由,比如不让自己的妻子去工作,认为她就应该在家里做家务照顾孩子。
3. Live in their own world, believing that they are always right, and that if another person doesn't do things in according to their ways, it must be the other person's problem.
活在自己的世界里,认为自己总是正确的,如果别人不按照他的方式做事,就一定是别人的问题。
4. Frequently say "My mom says….", listen to whatever their mom says, and only like things their mother likes – including girlfriends.
经常说"我妈妈说…",什么事都听妈妈的,妈妈喜欢的他才会喜欢,包括女朋友。
If you conform to two of the characteristics listed above, it illustrates that you're already a mild sufferer of "straight man's cancer". If you conform to four or more, then… you should know what to do. In fact, Chinese netizens manufactured this word "直男癌", not only to mock men that behave in the ways mentioned above, but most importantly to initiate an equal and healthy sexual relations. Do you have sufferers of "直男癌" near you?
上面这些特征,如果你符合2条,说明已经是轻度"直男癌"患者了。如果符合4条以上,那么⋯⋯你应该知道怎么办了。其实,中国网友制造出"直男癌"这个词,不仅是为了讽刺有以上行为和想法的男生,更重要的,是倡导一种平等和健康的两性关系。
*Do you have sufferers of "直男癌" around you? What's your impression about them? Share with us!