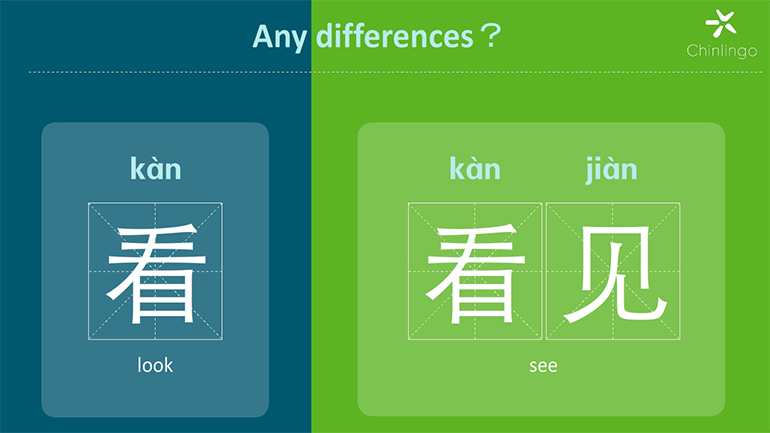 [Do you know?]
Both "看" and "看见" are related to the visual sense. Is there any difference between them?
"看"和"看见"都与视觉有关,它们有什么区别呢?
[Definitions]
看 (kàn): look; read; watch; judge; visit; see a doctor; used after a reiterative verb or a verb phrase to mean "have a try"
看 (kàn): 阅读;观察并加以判断;看望;诊治疾病;用在动词重叠式或动词词组后边,表示尝试。
看见 (kàn jiàn): catch sight of; see
看见 (kàn jiàn): 视线接触到了目的物(人或东西)。
[Uses]
"看" refers to the action and function of eyes. One opens his or her eyes to "看". "看见" refers to the result of "看". "看" doesn't always leads to the result of "看见", but "看见" involves "看". They cannot be exchanged. In addition, as a durational verb, "看" can be preceded by "在" or "正在" to indicate a lasting action, while "看见" is not a durational verb and cannot be used in this way.
"看"是眼睛的动作和功能,只要睁开眼就是"看"。"看见"是"看"这个动作产生的结果,"看"不一定能"看见",但"看见"一定是"看"了。二者不能随便换用。另外,"看"是持续性动词,前面可以加"在、正在",表示动作正在进行,"看见"是非持续性动词,不能这么用。
Examples:
√ 我在看电视。(wǒ zài kàn diàn shì)
I'm watching TV.
×我在看见电视。
√ 你看见他了吗?(nǐ kàn jiàn tā le mɑ)
Have you seen him?
×你看他了吗?
The article is translated and editted by Chinlingo. Please indicate the source (info.chinlingo.com) for any use, reproduction or transfer.
本文由Chinlingo编译后发布,如需转载,请标明来源:info.chinlingo.com.