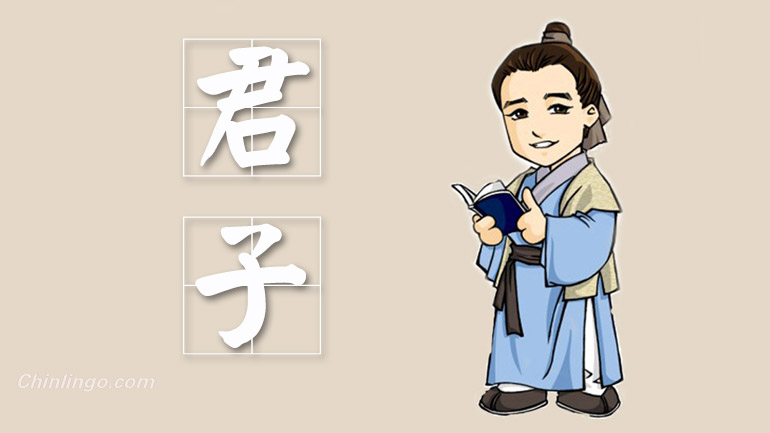 君子 (jūn zǐ, a man of virtue) was originally used to indicate a person's social status, generally referring to a ruler or a member of the aristocracy. Beginning with Confucius, the term acquired an additional moral dimension and came to mean someone of true virtue. The opposite of junzi is 小人 (xiǎo rén, a petty man).
"君子"最初用以指称人的社会身份与地位,一般指统治者和贵族男子。但自孔子始,"君子"更多地被赋予了道德的意义,德行出众者被称为"君子",反之为"小人"。
In the Confucian tradition, 君子 is someone who is above a scholar and below a sage in terms of moral influence. A man of virtue pursues and practices the ideal known as Dao and regards Dao as the fundamental meaning of life above power or gains.  
在儒家传统中,"君子"成为一种介乎士和圣贤之间的人格理想,它标志着道德人格的确立。"君子"有志于追寻和实践作为价值理想的"道",并把"道"而不是权力或利益等视为生命意义的根本。
There is a saying in The Analects of Confucius: 君子喻于义,小人喻于利。(jūn zǐ yù yú yì, xiǎo rén yù yú lì) A man of virtue understands and observes what is morally right; while a petty man only has his eyes on and goes after what brings personal gains.
《论语》子曰:"君子喻于义,小人喻于利。"君子知晓并遵循义,小人知晓并追逐利。