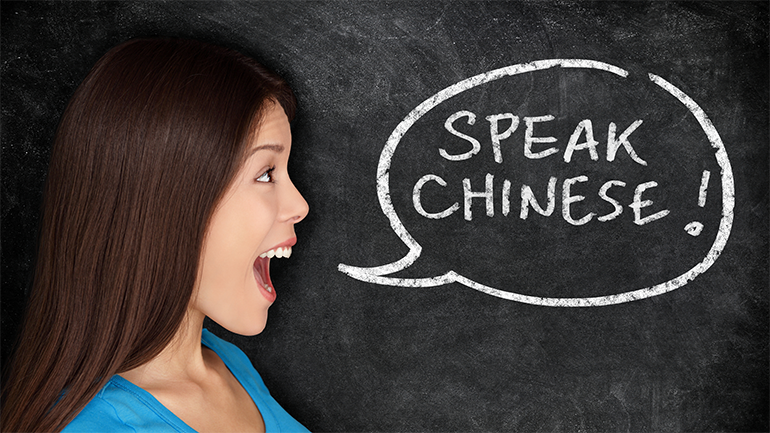 According to the Xinhua News Agency, Mr. Kari Kivinen, the Secretary-General of the European Schools, said recently that the Education Board of European Schools was considering to make the Chinese language as a compulsory course. The Chinese language bridges exchanges between China and other countries. The inclusion of Chinese language as a compulsory course reflects the "Chinese fever".
据新华社报道,欧盟学校秘书长凯维农日前表示,为了促进中欧合作交流,欧盟学校教育委员会正在酝酿将中文课程设置为必修课程。汉语为中外交流建桥,"中文必修课"的增多反映出"汉语热"持续发酵的一个侧面。
Chinese language bridges exchanges between China and other countries  
中文架桥 促进中外交流
Recently, "Pseudo-Chinese words" have gone viral among the netizens in China and Japan. Despite differences in meaning between Chinese characters and Japanese characters, netizens are still able to figure out what they roughly mean. For example, "大变" in Japanese means "很, 非常" in Chinese or "very" in English, so "大变寒冷" means "很寒冷" in Chinese or "very cold" in English; "贵方明日何行处" in Japanese is a "pseudo-Chinese sentence" and means "你明天去哪里" in Chinese or "where are you going tomorrow" in English; "全然问题无"in Japanese means "完全没有问题" in Chinese or "no problem" in English. "There are also characters in Japanese, so I'm able to communicate with Chinese people in these characters. It seems that I have wasted time learning Chinese." Nishida, a Japanese student majoring in Chinese in Beijing Language and Culture University, joked about "Pseudo-Chinese words".
最近,"伪中国话"在中日网民间走红。中日语言中的用字即使有意义上的差异,但网友在使用中也能猜出个大概。如"大变"的日文意思为"很、非常","大变寒冷"意即"很寒冷";"你明天去哪里"的"伪中国语"是"贵方明日何行处";"全然问题无"是"完全没有问题"的意思。"日文中有汉字,可以仅凭汉字进行交流,我感觉我的中文像白学了一样。" 北京语言大学中文专业的日本留学生西田聪在谈到"伪中国话"时玩笑道。
Li Luxing, an associate professor from School of Liberal Arts, Renmin University of China, thinks that languages are the most fundamental and indispensable tool for communication between two parties, and the influence of a culture is reflected first on its language. Historically, Chinese characters have inserted huge influence on its surrounding countries, many of which have recorded their own languages with structures of Chinese characters. These countries include Japan, Korea and Vietnam. Up to now, Chinese characters still play the role as a bridge in exchanges between countries in the Chinese character cultural circle.
中国人民大学文学院副教授李禄兴认为,语言文字是双方沟通的最基础的工具和最必要的手段,文化的影响力首先表现在语言文字上。汉字在历史上就对周边国家产生过巨大影响,很多国家就是借汉字的形体来记录本国语言的,例如日本、韩国、越南等。直到今天,在汉字文化圈内的国家,汉字仍然承载着沟通桥梁的作用。
"Chinese has a great impact on my life. When chatting with my friends in Russian, I often use Chinese words, like '麻烦' (meaning 'trouble' in English), as I cannot find Russian counterparts of many Chinese words", said Chris, a student from Turkmenistan who have been in China for over two years.
"学习中文对我的生活有很大的影响。我和我朋友用俄语聊天时,经常用到中文里的词语,如'麻烦'。因为中文里有很多我们语言没有的词。"已经来中国两年多的土库曼斯坦留学生克丽丝说。
Sui Yan, former dean of the Department of Chinese Language for Foreign Students of International Education College, Yantai University, said that international students would get knowledge about a real and more complete China and learn the more lively and colorful Chinese culture. In some countries, learning Chinese has become an important option for some people to seek self-development and realize dreams. For example, some seniors in South Korea study Chinese to spend their retired life or travel in China; some parents move to China with their children and settle down, so that their children are able to learn Chinese in Chinese schools from childhood.
烟台大学国际教育交流学院留学生汉语系前系主任隋艳谈到,外国留学生通过中文会认识一个更全面、真实的中国,会接触到更鲜活、丰富的中华文化。在一些国家,学习中文已经成了人们谋求自身发展,实现自身梦想的重要选择。比如在韩国,一些老人为了来中国养老或是旅游,努力地学习中文;一些家长会带着孩子来中国定居,让孩子从小就上中国的学校学习中文。
Chinese language brings foreigners closer to Chinese people  
中文敲门 拉近中外感情
Mark Zuckerberg, founder of Facebook, gave a speech completely in Chinese in Tsinghua University, which has aroused attention from netizens in both China and the U.S.. Many foreign celebrities have come to China to expand their careers. They are trying hard to learn Chinese and have even learned singing some Chinese songs, in order to get closer to their Chinese fans. China, Japan, Malaysia and Singapore are all countries in the Chinese character culture circle. In these countries, people have been voting for the most representative characters of the year in recent years. For example, in 2015, the character "廉" (clean governance) was selected in China, "安" (safety) in Japan, "苦" (bitterness) in Malaysia, and "耀" (brilliance) in Singapore. It is not difficult for us to understand the implied meanings of these characters. Chinese characters have bridged emotional exchanges and gains sharing between us.
脸书的创始人马克•扎克伯格在清华大学全程使用中文进行演讲,引起中美两国网民的关注。来中国发展事业的外国明星为了拉近与中国观众的感情,努力学习中文,有的甚至学唱了几首中文歌。中国、日本、马来西亚和新加坡等国家都属于汉字文化圈地区,这些国家每年都会评选最具代表性的年度汉字。例如,中国的2015年度字词是"廉";日本的2015年度字是"安";马来西亚的2015年度汉字是"苦";新加坡的2015年度字是"耀"……这些当选汉字的寓意我们不难理解,"汉字"为我们架设起了互相交流感情、分享收获的桥梁。
"When I started learning Chinese in 2005, all people around me felt that I must be mad. However, as they witnessed the rapid growth of China's economy, they have changed their mind and said to me, 'You were right.' Now, many of them have become interested in Chinese, and felt like hearing some words in Chinese from me. I even sang a Chinese song to my family in a karaoke bar." Angel who is from Latvia said about her experience of Chinese learning. She is now a presenter of Tianjin Television Station.
"我在2005年的时候开始学汉语,当时我周围的人都觉得我疯了。当看到中国经济的飞速发展,他们的想法也逐渐变了,对我说'你的选择是对的'。现在好多人都对汉语产生了兴趣,总想让我说几句汉语给他们听。有一次在歌厅唱歌,我给我的家人唱了一首中文歌。"来自拉托维亚的天津电视台主持人安泽女士在谈到学中文的经历时如是说。
"Nowadays, with the rapid development of Chinese economy, many people have come to China to learn Chinese not just out of interest but for some more practical purposes. For example, in such countries as Japan and South Korea, competence in Chinese means the greater competitiveness in the job market and the higher payment. In Ireland, graduates who have majored in business and Chinese studies are always "booked" by MNCs before graduation. Such talents are still fairly popular in Europe and the US. " Li Luxing said.
"如今随着中国经济的迅猛发展,很多外国留学生来到中国学习汉语,他们已从过去单一的兴趣型学习转变为带有较强实用目的的学习。例如,在日韩等国家,学好汉语意味着在大学毕业以后可以在就业方面有更大的竞争力,意味着薪水可能比不懂汉语的人要高一些。在爱尔兰,商学与中国学专业的毕业生由于懂汉语,往往在毕业之前就会被很多跨国公司提前'预订'。因为这方面的人才在欧洲和美国仍然是很抢手的。"李禄兴如是说。
Chinese language helps you realize dreams
中文作翼 助你实现梦想
Lily, a student from Kazakhstan who majors in Chinese language and literature in Wuhan University, said, "Since I started learning Chinese, I have made several good friends. We travel together. My mind is always haunted with various delicacies we have tasted during the travels. I like "火锅" (hot pot) and "麻辣烫" (hot and spicy soup) particularly. I didn't like spicy food before, but I eat them every day now. Since I came to study as a graduate student in Wuhan University, I have been a cheer leader and a model. My dreams in the childhood have all come true. I love China." The Chinese language help young foreigners realize their dreams.
武汉大学汉语言文学专业的哈萨克斯坦留学生丽丽说:"学了中文后,我结交了几个很要好的中国朋友,我们一起去旅行。旅途中的许多美食让我魂牵梦绕,我特别爱吃火锅和麻辣烫。我原先是不敢吃辣菜的,可现在呢,没有一天不吃辣的。我来到武汉大学读研究生后,当上了拉拉队队长,还有机会当上了模特,我小时候的梦想都实现了,我爱中国!"中文为外国青年的梦想插上了翅膀。
today, more and more young foreigners are putting to good use their creativity and wisdom in the hot spot of China and realize their ideals. "I came to China 6 years ago. I'm creating a modern tea brand now." Martin briefed about his experience in the busy life. He is from the U.S.. He is an actor and a talent show contestant. He is now running a tea house, PAPP'S TEA , which was created on his own. "I like tea, but I found there is no modern "tea brand" in China. So I will create one. I'm going to build the most fashionable 'tea brand' in China." Martin talked about his original intention before the startup. Now, he lives in Beijing with his family. His wife is from Sichuan. They got married two years ago. When recalling his first meeting with his parents-in-law, he said, "They were quite serious then, and I was nervous. After asking their daughter leaving for a while, they asked me alone, 'Are you serious with my daughter?' I nodded at once. Since we got married, they have been very kind to me. I love the Sichuan-styled dishes by my mother-in-law. Every time I visit them, she will make 'Sichuan Dumplings' in particular for me."
现在越来越多的外国年轻人在中国这片热土上施展自己的创意与智慧,实现自己的人生理想。"我来中国6年多了,中文是自学的,我现在在创业,创建了一个现代茶品牌。"忙忙碌碌的马丁简短地表述了他的经历,这位来自美国的小伙儿不仅是电视演员、选秀选手,他还自主创立了PAPP'S TEA店,经营茶馆。"我喜欢茶,但发现中国缺少一种现代型的'茶品牌',那就让我来吧,我要打造中国最时尚的'茶品牌'。"马丁谈起他的创业初衷时如是说。现在,马丁把家安在了北京,他与四川籍妻子结婚两年了。回忆起与中国的老丈人、丈母娘的第一次见面,他说:"当时场面挺严肃,我很紧张。他们把女儿支到了楼上,单独地问我:'你是不是认真地对我女儿?'我连忙点头确认。结婚后,岳父岳母对我很好,我深深地喜欢上了岳母做的四川菜,每次回去她都会专门给我做'四川水饺'吃。"
The Chinese language acts as a go-between for transnational couples, brings China closer to the world and helps you realize the dreams you have been aspiring to. It sings in the song The World's Chinese Bridge, "Every stroke of the beautiful characters looks like the wall-walking of Qinggong…China's Chinese Bridge shines, and inherits the pride after thousands of years; the world's Chinese Bridge would strive with the whole world and smile hand in hand."
中文牵线相隔万里的姻缘,中文拉近中国与世界的距离,中文助力实现衷心向往的梦想。正如《世界汉语桥》的歌词中所唱的:"美丽的文字一笔一画,像飞檐走壁的轻功……中国的汉语桥,传承了几千年的骄傲,新的曙光;世界的汉语桥,要和全世界一起加油,携手微笑。"
Please visit Chinlingo for Chinese learning.