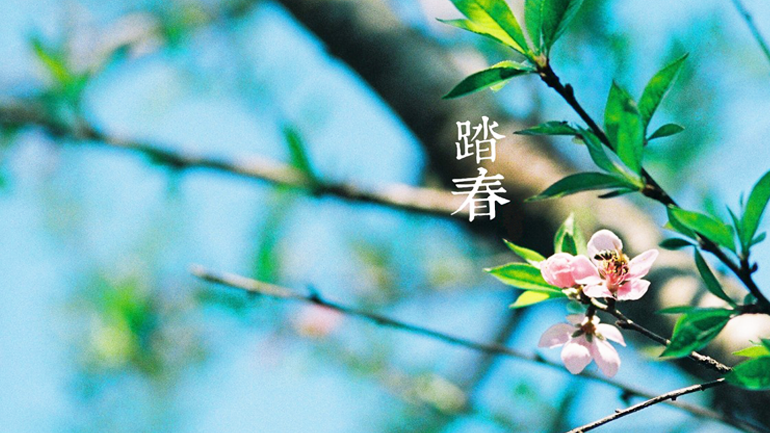 Picking flowers
摘花 (zhāi huā)
Send yourself a pretty bouquet of spring flowers. Brighten up your own day with daffodils, dahlias, tulips and lilies.
给自己摘一束春天里的花,可以用水仙、大丽花、郁金香和百合来照亮自己美丽的春天。
Spring outing
踏春 (tà chūn)
Take a walk. No cellphone allowed. Just you, the fresh air, and the blossoming world.
走一走。独自一人,扔掉手机,只有你自己,和春天清新的空气,以及漫山的花朵。
Picnic
野餐 (yě cān)
Invite friends over for the cookout of the season.
约上三五个好友一起去户外郊游野餐。
Decorating home
布置居室 (bù zhì jū shì)
Quickest spring re-do for your home: New placemats and napkins in a spring-like color.
快速重新布置自己的居室。换上新的桌布和餐巾,让家中充满春天的颜色。
Going to zoo
去动物园 (qù dòng wù yuán)
Visiting baby animals in the zoo! Need we say more?
去公园看小动物,这个无需多说。
Cleaning desk
收拾办公桌 (shōu shi bàn gōng zhuō)
Clean your office: out with the piles of paper; in with a pretty vase for flowers and a new framed photo of you and your family.
春天来了,将自己的办公桌收拾干净吧,扔掉没用的废纸,换上新鲜的花儿,摆上一张最近的全家福。
Swimwear
泳衣 (yǒng yī)
Start looking at swimwear catalogs and set a fitness goal. It's not too late!
开始关注泳衣的价格,并做好塑身的准备,现在准备还不算太晚。
Colorful clothes
亮色衣物 (liàng sè yī wù)
Treat yourself with something in the season's bright colors … A yellow bag, a pair of lime green shoes, a coral lipstick.
给自己购买一些亮色的衣物,譬如一个橘黄色的小包,一双宝石绿的鞋,一支珊瑚色的口红等等。
Making cakes
做蛋糕 (zuò dàn gāo)
Bake a bunny or flowerpot cake. Your family will love it.
试着做一个小兔子形状或者是花束形状的蛋糕,你的家人会很喜欢的。
Preparing raincoat
准备雨衣 (zhǔn bèi yǔ yī)
Put a smile on your face in rainy days and buy a new raincoat or new rain boots. You'll look forward to April showers!
最后,在雨天里保持微笑,准备一双新雨鞋、一件新雨衣吧,四月雨季很快就要来了。
Please visit Chinlingo for Chinese learning.