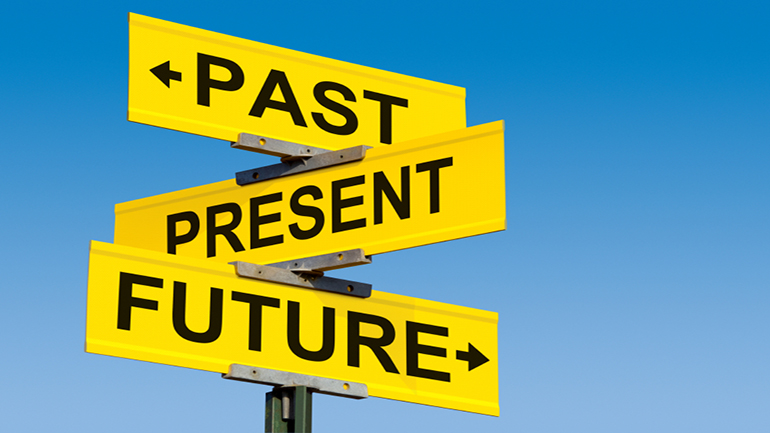 For every language, correct understanding and usage of verbs are crucially important. Only if you can use verbs correctly can you express your mind accurately. Tense is the state of an action that a verb indicates. In English and other alphabetic languages, verbs have different forms to express their tenses.
对任何一种语言来说,正确理解及使用动词至关重要。只有能够正确地使用动词,你才能准确地表达自己内心的想法。时态是动词的一种形式,表示行为发生的时间状态。在英语以及其他字母语言中,动词的形式会发生变化,以表明其时态。
But, Chinese is a kind of pictograph. So, its tenses are not expressed through changing the form of verbs themselves but through adding certain adverbs or depending on the context – so much, in fact, that the tenses in Chinese are a little vague; we can say there are only aspects of verbs but not explicit tenses in Chinese.
但是,由于中文是象形文字,因此中文的时态并非通过动词外形本身体现出来,而是通过加上某些副词或根据语境体现出来。实际上,中文的时态有点模糊,我们可以认为中文的动词只有体,而没有明确的时态。
As for aspect, grammarians have varieties of arguments; they have not come to an agreement. What I advocate is that Chinese has two aspects of verb: progressive aspect and perfect aspect.
语法学家对"体"的认识各不相同,并未达成一致。我认为中文的动词有两种"体":进行体和完成体。
For example,
例如:
我看过那部电影。
I have seen that movie.
This is a sentence in perfect aspect.
这句话是完成体。
The three sentences are all sentences in progressive aspect.
以下三种句子都是进行体。
我看电影。
I watch movies.
我在看电影。
I am watching a movie.
我要看电影。
I will watch a movie.
The most commonly used indicators are 着 (zhe), 了 (le), and 过 (guò), although they are not necessarily included in every Chinese sentence. 着 means something is going on, that is, progressive aspect, while 了 and 过 suggest perfect aspect. On the other hand, though the tenses are not very explicit just from observing the form of a verb, we can also come up with some typical ways, mostly by means of adverbs, to describe different tenses corresponding some of those in English.
虽然并不是每一个句子中都含有"着"、"了"、"过"等字,但这三个字却是汉语中最常用的表示体的字。"着"表示某事正在进行,也就是"进行体";"了"和"过"则是完成体。从另一方面讲,虽然我们不能从动词的形式变化上来确定时态,但是我们可以采用一些比较典型的方式,如加副词等,来表达英文中相应的时态。
Let's look at some ways of expressing different tenses in Chinese:
请看中文中表示时态的方式: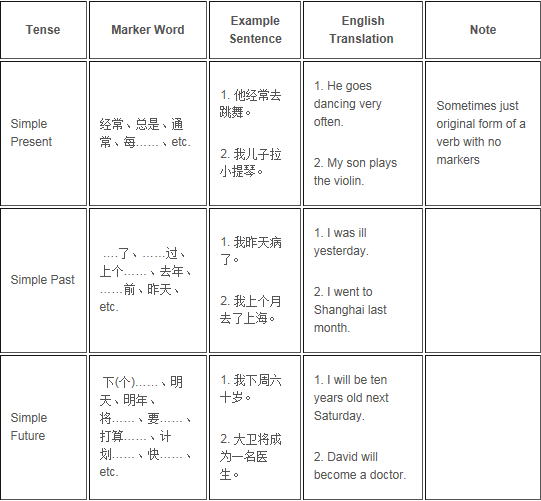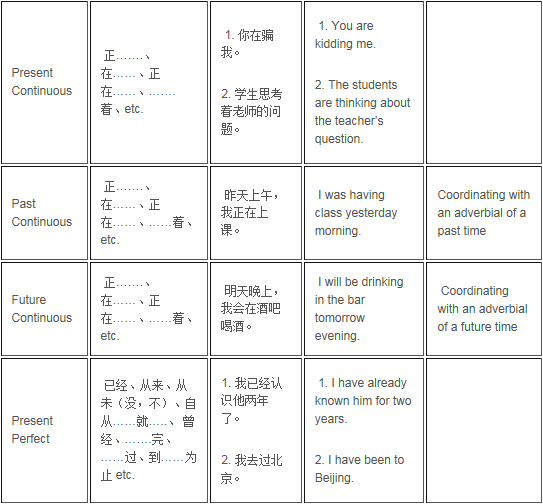 According to the above examples, you have understood that Chinese people use a lot of adverbs and context to help to make clear what tense a verb is in. The tenses in the above form are just major tenses in Chinese; some other tenses are possible but not very often used.
根据以上例句,你会发现中国人根据语境或大量使用副词来表明动词的时态。以上表格中的时态为汉语中最重要的时态。或许还有一些其他不常用的时态。
Translated from: italki.com