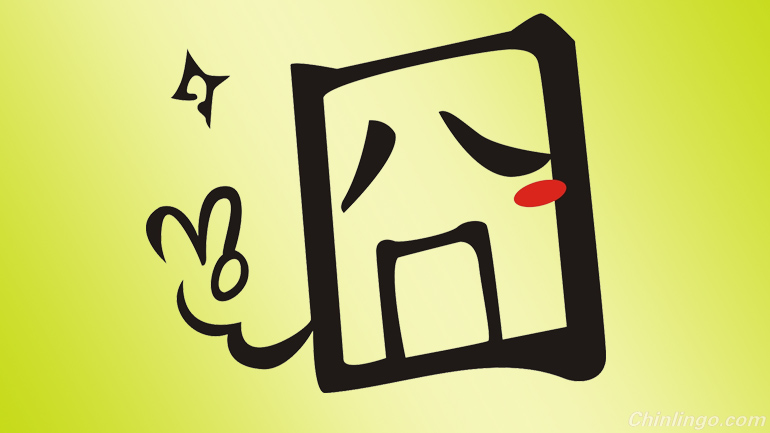 As there are about 100,000 Chinese characters, no one knows all of them. The rarely used characters are called "冷僻字 (lěng pì zì)" in Chinese. Some of these rarely used characters are difficult to write and pronounce, and some might look very "囧 (jiǒng)", which means confusing or awkward.
汉字的总数太大了,几乎没有人能够认识全部汉字。最不常用的汉字就是冷僻字。有一些冷僻字很难写,有一些冷僻字很难读,还有一些很"囧"。
Many people assume it is some kind of symbol or picture when they read this character for the first time. However, it is a Chinese character with a long history. "囧 (jiǒng)" first appeared in the oracle bone inscriptions (inscriptions on bones or tortoise shells in the Shang Dynasty from 1766 to 1122 BC). Its outline looks like a sunlight shining through a window and that is why "囧 (jiǒng)" originally means "light" or "glory". But for the modern people, the shape of "囧 (jiǒng)" makes it look like a twisted face. Moreover, its pronunciation sounds the same as 窘 (jiǒng)" from the Chinese phrase "窘迫 (jiǒng pò)", which means "embarrassed", so "囧 (jiǒng)" is now used much differently than before – usually it refers to awkward and embarrassing moments.
很多人第一次看到这个"囧"字的时候,都以为它只是一个符号或图片。然而,它的的确确是一个汉字,而且是一个历史悠久的汉字。"囧"字最早出现在甲骨文。它的外形就像太阳光射进窗户,所以它原来的意思是明亮、辉煌。可是,以现代人的眼光,这个字明明就是一张扭曲的人脸;而且,它的读音又和"窘迫"的"窘"字相同,以至于让它有了一些新的含义,而旧的含义已经不再使用。如今,该汉字通常指"尴尬"。
On the Internet, this rarely used character "囧 (jiǒng)" spread through the whole nation. You can easily understand. You will know how to use this character correctly if you just look at it carefully and picture the facial expression. "囧 (jiǒng)" shows you a face with upside down eyebrows and a wide opened downturned mouth. Any awkward situation can be described by character "囧 (jiǒng)" .
借助网络的力量,这个冷僻字被网民发扬光大。只需看看这个字,想像一下这个表情,你就知道怎么用这个字了。"囧"字代表了说话人的面部表情:两撇眉毛倒下来,嘴巴张得很大。尴尬的情景都可以用"囧"来形容。
It is nothing but awkward (囧-jiǒng) when making yourself a laughing stock in public. The bad jokes mostly are "(囧-jiǒng)" and people who heard them might feel "(囧-jiǒng)" as well. "囧" can be used to describe the facial expression of a person who is surprised as well, and Chinese people use this character frequently during chatting online.
在公众场合出丑,那是再囧不过的事情了。冷笑话都是很囧的,让人听了也很囧。"囧"可以形容人惊讶的表情。人们在网上聊天也常常用这个字。
This character also offers business opportunities for fast-moving entrepreneurs. Some established a website based on the theme of "(囧-jiǒng)"; some shot a film with "(囧-jiǒng)" in the title, like Lost in Thailand, and some even designed clothes or shoes with the character "(囧-jiǒng)" printed on them.
这个字也引起了一些商业效应。有人以"囧"为主题建立了网站;有人拍了"囧"电影,比如"泰囧";有人设计了"囧"衣服、"囧"鞋等。
Nowadays, "(囧-jiǒng)" is not an elegant written character anymore, so you better not use it on formal occasions. But if you're chatting online, go ahead, it's a well known character in popular culture.
不过,现在的这个"囧"已经不是优雅的书面文字,在正式场合还是不用为好。不过,如果你在上网聊天,放心用吧,这是大众文化中的常见汉字。