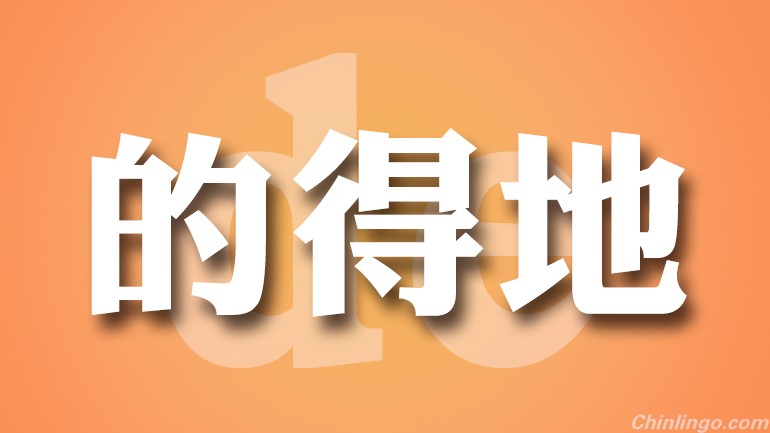 New learners of Mandarin Chinese are often confused by the fact that there are three particles that seem to fulfill a similar function (they are all used to connect parts of sentences together) and that are all pronounced the same way, "de". Even though it's not necessary to know the difference to be able to speak Mandarin well (they are pronounced the same way, after all), you need to be able to differentiate the three when you write.
汉语初学者经常会疑惑这样的问题:汉语里存在着三个可以实现类似功能的小词(它们都是组成句子的一部分)并且发音完全一样的"de"。虽然无需了解其中的区别也可以说好汉语(毕竟它们的发音完全一致),但手写汉字的时候却需要知道区分它们。
的
This is in fact the most common character in Mandarin, so if you're not sure what to write, pick this one. It is used for a lot of things, but in general, it's used to show that something describes whatever comes after by limiting it. The most common manifestation of this is a normal possessive.
实际上这是汉语里最常见的汉字了,因此下笔犹豫的时候可以选择这个字。"的"使用广泛,但一般来说,它是用来描述和限定某事物的表达。常见的表达方式就是所有格。
For instance, if we have two words, 我 wǒ "I" and 房子 fángzi "house, room", we can use 的 to show that the first one limits the second. In other words, if we say 我的房子, we're not talking about any old house, it's my house. You can do the same with colors, so 白色的房子 báisè de fángzi doesn't refer to any house, but a white house.
例如,遇到两个词的时候,"我"和"房子",我们可以用"的"字来表示前者限定后者的意思。换句话说,就是"我的房子",这里我们指的不是老房子,而是具体指我的房子。同样,表示颜色的词也可以使用,如"白色的房子"指的不是任何其他的房子而是白色的房子。
得
This second "de" is used for a number of different things in Mandarin. First, it's used to link an adverb to a verb. For instance, we can say 跑 pǎo "to run", and if we want to add that someone runs very fast, we can say 跑得很快 pǎo de hěnkuài.
第二个"得"字在汉语的不同语境中使用。首先,它可以用来连接副词和动词,例如,我们可以说"跑",要是我们还想说明某人跑的速度快,可以说"跑得很快"。
Similarly, if you want to say that your Chinese isn't so good, you can say 我中文说得不好 wǒ zhōngwén shuō de bùhǎo "I don't speak Chinese well". Not that "well" here is preceded by the action and then 得.
同样,要是你想说自己的中文不是很好,你可以说"我中文说得不好"。这里的"不好"是接在动词和"得"字之后。
Second, 得 can be used to show potential. This is too complicated to describe in full here, but if you want to express that someone is able to or has the potential to do something you can say 做得到 zuò de dào. Using 得到 in this way is very common, but there are other examples as well, such as 听得懂tīng de dǒng "be able to understand" and 看得见kàn de jiàn "be able to see (something)".
第二,"得"字可以表示"潜在的"意思。这个用法比较复杂,难以完全解释,但要是你想表达"某人可以做某事"或者"某人有潜力做某事"的意思的话,你可以说"做得到"。这里"得到"的用法很常见,不过还有一些其他的例子,如"听得懂"、"看得见"。
地
The third "地" and it is much less common than the above two and its usage is also more limited. It's mostly used when placing an adverb before a verb, so the word order is the opposite of 得. Here are a few examples:
第三个字"地"比前两个较不常见,并且使用方式也较有限。通常是在动词之前放副词的时候用到,因此跟"得"字的使用词序完全相反。以下有几个例子:
轻轻地 qīngqīng de "lightly"
慢慢地 mànmàn de "slowly"
Note that 地 is placed before the action and that the word describing the action comes before 地.
注意,"地"字放在动作之前,而修饰动作的词放在"地"字之前。
Also note that 地 can be pronounced "dì", in which case it means "ground". This pronunciation and usage is separate from the grammar discussed here, don't confuse them!
另外注意"地"字可以发"dì"的音,从而表示"地面"的意思。这个发音和使用方式跟上面所说的语法完全无关,千万不要混淆了。