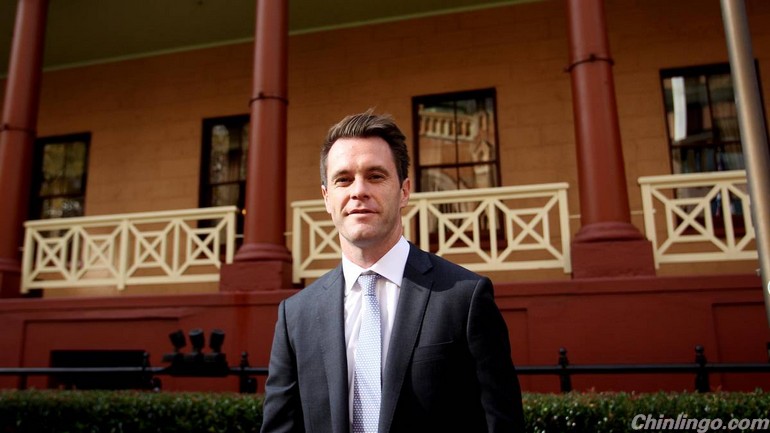 Compulsory Mandarin course from kindergarten to high school
从幼儿园到高中必修汉语
Chris Minns, the Kogarah senator, proposed in his speech that all school students in NSW should learn Mandarin – a proposal praised by Premier Mike Baird.
高嘉华地区议员柯民思在议会演讲时指出,新州所有的学校必须强制学习汉语,此举还得到新州州长贝尔德的赞许。
Chris Minns, who holds a Masters in Public Policy from Princeton University, pointed out that many Australian enterprises were panicking when they met the great opportunity of the "Asian Century"even though it made getting direct financing more difficult.
柯民思毕业于美国普林斯顿大学,并获得公共政策硕士学位。他在演讲中表示,众多澳洲企业在迎接"亚洲世纪"的重大历史机遇时表现得张皇失措,这样很难得到直接融资。
He said the next generation needed to be better equipped with Asian language skills, especially Chinese, and get a better understanding of Asian customs and traditions. "I proposed a bold ideal to the council that all NSW children from kindergarten to 12th grade are required to learn Mandarin. That would pay off in the near future "
他表示,澳洲未来一代的员工需要马上装备上亚洲语言特别是中文技巧,并更好地理解亚洲的风俗习惯。"我向议会提出一个大胆的设想,即要求所有新州的学生,从幼儿园开始一直到12年级为止,都要强制学习汉语,这样做会带来明显的不同。"
Open-minded toward direct investment from China
对中国直接投资态度开放
Minns' speech was praised by Premier Mike Baird. Premier said, "I congratulate him for demonstrating his leadership by saying that we welcome foreign direct investment. I quite agreed with his point of making Mandarin a compulsory course in NSW schools."
他的这番讲话得到了贝尔德的赞许,"我在此向柯民思表示祝贺,他在演讲中谈到的欢迎外商直接投资的要点体现出他的领袖头脑。他在演讲中表示,从他的角度出发,新州应将汉语列为学校的必修课,我对此十分赞同。"
Baird also thought that Minns' views were very open-minded. In terms of the attitude toward Chinese investors, Minns was rather different from other associates in the Labor Party.
贝尔德还表示,柯民思的看法非常开放。柯民思在对待中国投资者的态度上,与其他工党同僚的看法不尽相同。
Australian enterprises should seize the opportunity of the "Asian Century"
吁澳洲企业抓住"亚洲世纪"
Chris Minns showed that foreign direct investment is supported in NSW. He said residents in Kogarah are from all over the world, with 61% speaking a language other than English. In NSW, the district has the highest percentage of Chinese Australians within the country.
柯民思在演讲中还表示,支持外商向新州直接投资。他还称,高嘉华的居民来自世界各地,其中有61%的居民第一语言不是英语。在这里,澳洲华人的比例堪称全国最高。
Minns indicated that the main reason why Australian companies failed to grasp the importance of the"Asian Century" was primarily the vague understanding of Asian customs and languages. "Last year, among the 70,000 students who graduated from Higher School, only 0.5% (pitifully small percentage) learned Mandarin."
他还表示,澳洲企业没能抓住"亚洲世纪"的最主要原因是,企业对亚洲风俗人情及语言缺乏了解。"去年,新州有7万名学生高中毕业,仅有0.5%的学生选修汉语,这个比例小的可怜。"
Minns said the federal government has already formulated The Asian Century White Paper, but it was abandoned in NSW. If the course standard in NSW can't make Mandarin compulsory, then according to the White Paper, Australian children should learn at least one of four Asian languages: Mandarin, Hindi, Indonesian and Japanese.
柯民思表示,联邦政府已经制定了《亚洲世纪白皮书》,然而,这项政策却在新州被无耻的抛弃了。"如果新州的课程标准不能制定出强制学习汉语的决定,那么根据白皮书规定,澳洲儿童至少要学习汉语、印地语、印尼语及日语这4门亚洲语言中的一门语言。"